Revelers around the world celebrating the Chinese New Year recently rang in the Year of the Horse and among them were Peruvians, many of whom have ties to the Asian nation. One might not think of the Chinese having an influence on a culture half a world away, but in Peru, Chinese traditions touch many parts of everyday life, with perhaps the most popular being food.
Peru´s take on Chinese food emerged from the zigzagging alleyways of Lima's Chinatown more than a century ago. It all started when settlers coming from the southern province of Guangdong – and particularly its capital Guangzhou – arrived in Peru in search of work during the late 19th and early 20th centuries. After long, hard days working in mines and on railroads, the Asian expats wanted nothing more than Chinese soul food. The problem – many of the ingredients they were used to tossing in clay pots and woks weren't available in Peru, so they improvised, creating what is now recognized as an essential part of Peruvian cuisine: Chifa.
Chifa is so widely popular in Peru, that even the nation´s most renowned chef, Gastón Acurio, who typically serves traditional Peruvian dishes in his restaurants, opened Madam Tusan. Inside a giant red dragon floats from the ceiling and diners use chopsticks in lieu of forks.
With more than 6,000 Chifa restaurants, Lima is not only the capital of Peru, but also considered by many to be the capital of South American Chinese cuisine. Inside these restaurants, which are decorated with the same flair as their North American counterparts, diners can get Chinese-Peruvian plates likeArroz Chaufa(fried rice),Chap Suey(chop suey),Sopa Wantán (wonton soup) andTallarín Saltado(lo mein).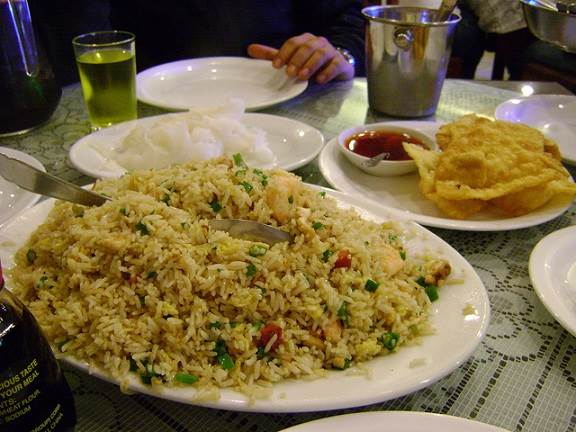 In fact Chifa has become so ingrained in Peruvian food culture that some dishes with Cantonese or Szechuan roots are no longer even considered Chinese, but Peruvian. Epicureans  can find dishes like lomo saltado (beef and vegetables sautéed in soy sauce and served atop a bed of rice and potatoes) right next to traditional Andean dishes like cuy (guinea pig),choclo (giant corn) and Peru's unofficial national dish, ceviche (raw fish marinated in lime juice).
Here is a list of our favorite Chifa restaurants:
Chifa San Joy Lao
Jirón Ucayali 779, El Centro, Lima
This restaurant, set in Lima's Chinatown, takes Chinese-Peruvian fusion to another level. Diners can get an Andean spin on Kung Poa Chicken with Cuy (guinea pig, a delicacy in Peru) instead. Word on the street is that Limeños come far and wide for the dim sum as well.
Wa Lok
Av Angamos Oeste 700, Miraflores, Lima
This treasure is hidden inside the second floor of a casino. With three dozen appetizers and huge entree portions this is a place to come hungry and with friends.
Madam Tusan
Av Santa Cruz 859, Miraflores, Lima
As Gastón Acurio's staple Chifa joint, this place lives up to the hype. The ambiance is likely the nicest you'll get in an Chifa restaurant, and the cocktail selection is nearly as extensive as the food found on the menu.
Chifa Chung Yion
Jr. Unión 126, Barranco, Lima
Thousands of online reviewers rave about this Chinese restaurant with Peruvian ingredients, with many tipping their hats to the section of the menu dedicated solely to vegetarians.
Chifa Lung Fung
Av. República de Pánama 3165, San Isidro, Lima
Also tucked inside a casino, menus here boast both Chifa and authentic Cantonese cuisine. For those seeking a more authentic experience rather than one of fusion, the chef suggests the duck dish.
So the next time you´re in Peru, consider pleasing your palate with Chifa. After all, the Chinese have declared 2014 as the Year of the Horse. It´s the perfect excuse to eat like one.