Feel free as a bird in the sky. Float with the wind towards the ocean and cruise over the altitudes of Miraflores and Costa Verde. The tandem flight over Costa Verde is an amazing adventure in the skies of Lima. The best part, these flights are operated by professional pilots that will make you feel all the emotion of a free flight over the coastline in a safe way.
Costa Verde
Lima is the only capital in South America by the ocean. The district of Miraflores is located by the sea shores next to a chain of beach cliffs that form the bay of Lima. This combination of bay and cliffs modifies the wind direction creating an ascending current. This current allows the pilots to jump into the wind and flight over the ocean and the cliffs, reaching altitudes of up to 250 meters above the sea.
Tandem flight
This flight modality known as tandem flight uses special equipment that the passenger wears in order to attach to the paraglide and to the pilot. With this secured the pilot has absolute control of the flight. Just relax and enjoy the views and the experience. You will be amazed by the birds eye view. Buildings, city, the sea, everything is intense at 200 meters above the ground.
The sky tour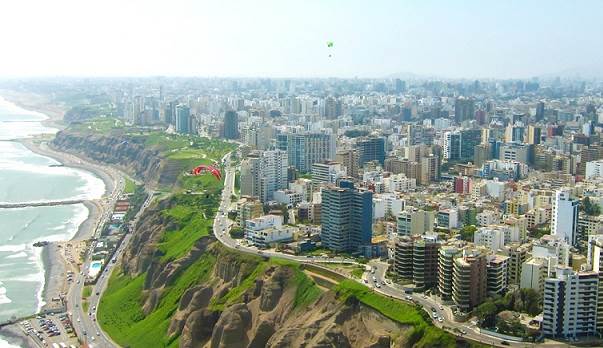 Flight starts at the cliffs into the wind for a cruise over the sea shore, lighthouse, beaches and parks. From here towards the buildings and the top of Hotel Marriott, almost touching it. The adrenaline levels as you flight into the ocean, going out until you are completely surrounded by water. Intense minutes of spectacular views. Turn around towards Larco Mar caressing the parks. A couple of doughnuts and 360s with the same G forces as a roller coaster to end this trip . The emotion is as intense as the wind. Lets flight back towards the lighthouse and the sea. An unforgettable adventure.
Flight schedules
Flights depart Mondays through Sundays from 10am to 6pm with good wind conditions. The total flight time is 10 minutes in a rout between the lighthouse and Larco Mar approximately. No prior experience required, the pilots will give you all the indications and equipment so you can enjoy a safe flight. Elevate up to the skies of Lima.