Though many travelers equate Peru with Machu Picchu, there's much more to this Andean country than ruins and mountains (although those are indeed worth a visit). Peru is a country where history mixes with modernity and the language of the Incas is still spoken in villages throughout the countryside. For those looking to experience the vibrant culture of Peru, here are several activities that will take you off the beaten tourist track and into the heart of Peruvian culture.
Lares Trek in the Sacred Valley
Although the Lares Trek is often touted as an alternative to the Inca Trail, in reality the trek is much more a cultural experience than a trekking one. The Lares Valley is an area in the Sacred Valley populated with numerous small indigenous towns, and the Lares trek is a series of walking paths that connects them. The hike includes interaction with the local communities, such as attending a weaving presentation and dining on local dishes. Although not as physically demanding as other treks in the area, the Lares Valley is high in altitude so travelers should be prepared for a moderately challenging excursion. The typical length is three days, with a final fourth day spent taking the train to Machu Picchu from the town of Ollantaytambo for a tour of the famous ruin site.
Watching a Soccer Match in Lima
There are few things Peruvians get more passionate about than soccer (or futbol, as it is called in Latin America). And although the Peruvian national team is notoriously the underdog, that doesn't make their fans any less fervent. During national games the entire country stops to stand in front of any TV or radio they can find, cheering widely whenever the Peruvian team has the ball on offense. In addition to the national team, league soccer is widely popular, especially in Lima, the capital city. Their primer division consists of 16 teams and although watching a game in any bar will be an experience, watching a game live at the stadium is incomparable.
Gourds in Huancayo
The main city in Peru's center altiplano, Huancayo is only seven hours from Lima by road, but feels a world away. While Lima bustles, Huancayo is slow and steady, despite being the central hub of the Peruvian highlands. The smaller villages surrounding the city produce some of the finest handicrafts in the country. In the tiny villages of Cochas Grande and Cochas Chico, local artisans carve gourds with delicate designs that are then sold across the country. Visitors can watch artisans at work and then buy the final product. In another village, Concepcion, the convent Santa Rosa de Ocopca still welcomes visitors. The convent was used during Peru's colonization to train missionaries on how to convert indigenous locals in Peru's highlands and Amazon to the Catholic religion.
Market in Arequipa
Vising a Peruvian market can be an overwhelming experience the first time. Row upon row of stalls filled with vendors hawking everything from Amazonian fruits to hand-woven hats can seem chaotic and confusing, but the further you venture into the maze the more intriguing the experience becomes. Shopping in a local market is a regular activity for many Peruvians, and although in Lima and a few other large cities there are modern supermarkets that sell frozen food and mass marketed products, markets are still the most common place to buy food throughout the rest of Peru. In Arequipa, the San Camilo market attracts thousands of people a day, and stalls are operated by families who've sold in the same place for generations. The market is a wonderful place to see the diversity of Peruvian products and people, and it offers an easy opportunity to talk with locals in a friendly atmosphere.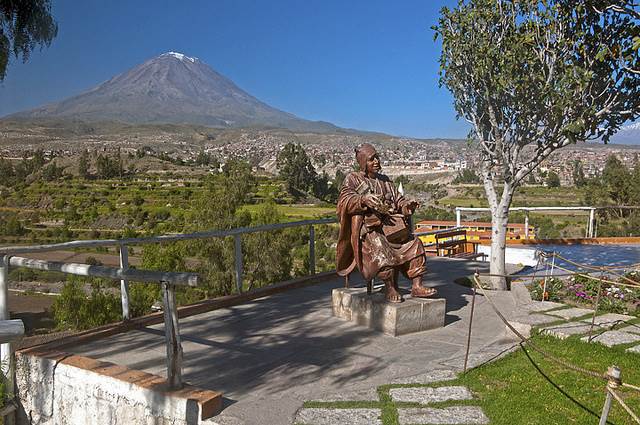 Chatting Ceviche with a Taxi Driver
Peruvians are proud of than their cuisine, and rightfully so. Lima is touted as the culinary capital of Latin America, and locals are intent on making sure the title sticks. It is impossible to visit Peru without a local asking you if you like their food, and since Peru lacks any major public transportation system, the person asking you is likely to be a taxi driver. Transit by taxi is one of the most common forms of transportation in Peru, and drivers are keen to get a foreigner's perspective on their beloved homeland. By far the most acclaimed Peruvian dish is ceviche, raw white fish marinated in lime juice, and at least one conversation during your time in Peru is sure to center upon this dish. Be sure you've tried it (along with a pisco sour, Peru's national cocktail) so you can hold up your end of the conversation.