Surprise yourself with our great city in the Tour City Night and Fountains of Lima. For first time visitors, an opportunity to see Lima in a fun and safe way. For locals, the opportunity to rediscover our amazing city. A comfortable tour in panoramic bus with open roof, bilingual guide and hundreds of places to discover from a new perspective.
Lima at night
The tour starts from the Miraflores district, here you'll have the chance to learn the history, traditions and actuality of our city. The bus will take you to the Huaca Pucllana, impressive construction of the early Peruvian cultures. From the second level of the bus you will have the chance to appreciate every detail of this early edification and learn about the millenary past of our country.
The Magic Circuit of Water
The tour stops at the Magic Circuit of Water, the newest tourist attraction of Lima. Winner of a Guinness Record for the largest complex of water fountains in the world. Come and witness the laser show that is presented here every night. A great moment for all the family.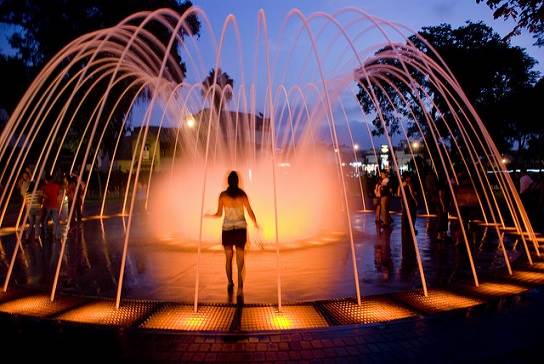 After this, take the bus back to Historic Downtown Lima and its renewed lights circuit. You'll have the opportunity to see the different architectural styles and buildings that make Lima a historic patrimony of humanity. See the balconies very close to you, the Plaza San Martin from the heights. Tour around the streets of Plaza Mayor and enjoy the architectural designs of Lima's Cathedral, Palace of Government, the City Hall, churches, parks and all the joy of a tour visit to our city. We promise an amazing night.
Recommendations
We recommend you to bring proper clothes to enjoy the tour on the second panoramic open level. Nights in Lima can be chilly and windy. Bring everything necessary to enjoy this open air panoramic tour.
The price of the tour includes bilingual guidance, snacks on board, entry to the Magic Water Circuit and return to the start point in Larco Mar. Enjoy Lima!