I would feel cheated if we had skipped out on Lima, as everyone seemed to think we should.
I believe to skip a destination simply because it's a little bit dirty, uncomfortable, or involves some risk is an unfortunate way to travel. Of course, there will be times where certain danger causes you to bypass a destination. There are times when the potential risks outweigh the benefits. But to simply miss out on an incredible place because there are parts of it that are dangerous (parts you will likely never get close to, I might add), or because it is not as clean as you are accustomed to, is to miss out on the vast majority of this incredible world. And I'm just not content to do that.

I travel because I want to see life as it is authentically lived outside of the fabricated bubble that is American suburbia.
I travel because I want to understand the world as best I can without fast forwarding through the bad parts as if they did not exist.
I travel because I want to be challenged and changed and challenged to affect change.
But that's just me.
And so to visit Peru and avoid Lima simply for the reasons our friends had suggested would have been too easy; it would have been cheating.
And I'm glad we didn't cheat. Although we were only in Lima for two days, it was well worth the stop and is worthy of a return trip one day. As it turns out, we didn't get robbed, abducted, lost, shot, decapitated, or suffocated by smog after all.
Here are just a few of the reasons why I'm glad we didn't skip Lima and why you shouldn't either:
La Catedral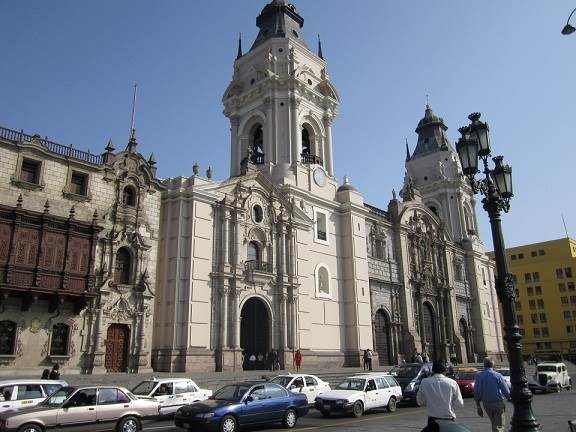 The supposed remains of Lima's founder (conquerer?), conquistador Francisco Pizzaro lie within the chapel of this spectacular cathedral. This gorgeous example of colonial architecture has been rebuilt several times since the 16th Century due to the high incidence of earthquakes in Peru.

San Francisco
This was one of the more spectacular sights we saw in all of Peru (not nearly as impressive as Machu Picchu, of course!). This incredible complex includes a cathedral, a convent, and two chapels — El Milagro and La Soledad. Like La Catedral, this structure was also damaged and destroyed by devastating earthquakes on multiple occasions. As a result, it was not completed until 1672. The cathedral's facade is an example of 17th Century Baroque architecture. Cloisters in the convent are decorated with beautiful blue tiles from Seville. The inside of the church is absolutely stunning. Inside the church you will also find a library consisting of books, Bibles, and hymnals dating back into the 1500s! The famous Peruvian painting of the Last Supper is housed in the dining hall and depicts Jesus and his disciples enjoying guinea pig and drinking Chicha, an Inca corn beer. The most exciting part of this complex, however, is the Catacombs below. The catacombs were used as a cemetery during the Colonial period and tens of thousands were buried here. The bones have been professionally sorted and organized. You can view an entire room full of skulls. Touring hours for the convent and museum are from 9:00 am – 5:45 pm daily.
Plaza Mayor
This is Lima's historic city center. It was here that Francisco Pizarro founded Lima. It used to host bullfights and executions, particularly during the Spanish Inquisition. Notably, the Plaza witnessed the declaration of Peru's independence from Spain in 1821. There have been numerous other historical events and demonstrations held in the Plaza. In the center stands a large bronze fountain, which was commissioned in 1650.
Santo Domingo
This is a Dominican church that features a beautiful convent with a courtyard of cloisters lined with beautiful mosaic tiles from Seville, some of the best preserved in all of Lima. The church also features cedar choir stalls that are ornately carved and an alter with relics of Dominican Peruvians having attained sainthood.
Miraflores
We already told you about Miraflores's spectacular Park of Love along the Pacific coast, but there is much more to enjoy in this, one of 40+ districts in Lima. Take a stroll through El Parque de Kennedy, or Kennedy Park, named for U.S. President John F. Kennedy. And, before you leave, grab a pizza and a beer along the famous "Pizza Street" next to Park Kennedy.
Here are a few steps to take before you go that will make your experience in Lima much more pleasant:
Book your lodging in advance. Pick a convenient location like Central Lima or Miraflores that will allow you options if you want to walk to sights or restaurants nearby.
Arrange to have someone from your hotel pick you up at the airport, bus station, or wherever you will be arriving from. This is a huge city. Save yourself time and stress and just get a ride!
Book a guided tour of the city. Our friends were not far off when they warned that navigating the city's transportation jungle is nearly impossible. We don't always advocate for taking guided tours, but in the case of Lima, the tour allowed us to relax and just take in the history and the sights without having to worry about any other factors. These tours don't have to be huge bus tours. We arranged a private tour and driver for less than $90 USD a day for the two of us.
Enjoy your time in Lima or wherever else people tell you not to go!
What is one city you were advised not to visit but are so glad you did?