After all, he made us watch the video that set my future in motion. From my vantage point in the center of the classroom, I watched as the expansive, meticulously crafted city emerged from the clouds, surrounded by jagged peaks, beckoned me to come explore. And although I could not do so at that very moment, as I was in the middle of my sixth grade Social Studies lesson on Inca history, I vowed to one day meet the once-lost city of Machu Picchu face to face. 
When the time finally came to achieve that long-held childhood dream (albeit 18 years later), I came to realize that Machu Picchu, as amazing as it is, is only one of the incredible wonders to behold in Peru. Suddenly, deciding how to fit it all in over just two weeks seemed rather daunting.
Should we hike the Inca trail? What can we do in Cusco while we adjust to the altitude? Are there any other Inca ruins we should check out? What's there to do at Lake Titicaca? Arequipa, where's that? Will we regret not going to the Amazon? Should we see the condors at Colca Canyon? Can we get away with just skipping out on Lima?
Although we would have loved to experience all the cultural, historical, and geographic wonders of Peru, we simply did not have time to do so. We have limited time available for travel each year, and we have to make the most of it. We figure that's probably the case for most travelers. So to help ease the pain of your travel-planning process, we've compiled the following suggested itinerary and travel tips to help you make the most of your time in Peru.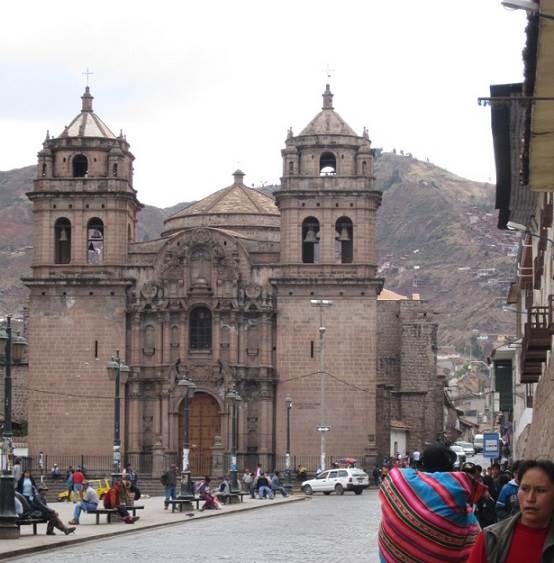 How to spend two weeks in Peru

Day 1: Fly into Lima. Connect to Cusco, if possible.
Day 2: Arrive in Cusco. Spend the day exploring the city and acclimatizing to the altitude. Learn as much about the city as you can, and make sure to visit the ruins of Saqsayhuaman and shop with the locals at Mercado Central.
Day 3: Make your way to the village of Ollantaytambo by bus, stopping in Pisac, if possible, to check out the local market. In the afternoon, devote several hours to exploring the ruins of Ollantaytambo.
Day 4: Explore Ollantaytambo in the morning. Book a train ticket on the "Peru Rail" and head to Aquas Calientes in the afternoon. This will be the launching point for your excursion to Machu Picchu. Arrive in the late-afternoon to enjoy dinner by the river, shop in the craft market outside the train station, and relax in the hot springs for which Aquas Calientes received its name.
Day 5: Depart first thing in the morning for Machu Picchu, where you will spend the whole day. You can take a bus up a switchback-filled road or take the more active option to arrive at the ruins, hiking the footpath that climbs up the hillside and takes just over an hour. If you have time, be sure to visit the Machu Picchu museum at the bottom of the hill, just before you cross the river and begin the ascent toward the ruins. Return to Aguas Calientes to catch the late-afternoon train back to Cusco. Spend the night in Cusco.
Day 6: Depart Cusco for Puno, a city on Lake Titicaca in southern Peru. If possible, take a bus that allows you several stops along the way at various sites and ruins. The scenery is spectacular and will take you through the Altiplano region.
Day 7: Explore Puno city. There are plenty of things to do in the Lake Titicaca area.
Day 8-9: Experience a homestay on one of Lake Titicaca's islands, stopping at the floating islands of the Uros people along the way.
Day 10: Depart Puno in the afternoon for Arequipa
Day 11: Explore the white sillar city of Arequipa, including visits to see the mummy Juanita the Ice Maiden, the beautiful Monasterio de Santa Catalina and the stunning cathedrals.
Day 12: Depart from Arequipa for a day trip to the spectacular Colca Canyon, which is twice as deep as the Grand Canyon in the United States.
Day 12: Depart in the evening for an overnight bus ride (close to 15 hours!) from Arequipa to Lima. It's a marathon, but it will save you so much time.
Day 13: Arrive in and explore Lima. We recommend you arrange a day tour. Be sure to take a stroll through the Park of Love in the evening!
Day 14: Depart Lima and return home!
Additional options to consider

The above itinerary is simply based on our time in Peru and is not meant to be exhaustive. You may also want to consider spending time in one or more of the following locations instead:
Peru's Amazon: Who can resist a trip to the Amazon? But Peru's Amazon is not always easily reached and is not a brief pit-stop on a whirlwind tour of the country. It should be savored and explored thoroughly. That's why we left it off of our itinerary for this particular trip. We wanted to return one day when we have more time to explore it. You can arrive in Peru's Amazon region by flying into the village of Iquitos, which is only reached by air or boat, or you can take a boat up the Amazon to Iquitos and the other stops along the way. The wildlife inside the river and in the surrounding jungle is some of the most awe-inspiring on the planet. Our friends at Green Global Travel recently spent quite a bit of time in the region. We recommend you check out some of their incredible photos to get a better idea of what a trip to the Amazon is like. You'll see various species of monkeys, fish, insects, birds, and maybe even a manatee!
The Nazca Lines: These giant drawings of animals and symbols in the desert were created by the Nazca people centuries ago and remain in-tact today. They are incredible when viewed from the air. We regret we could not fit this into our schedule.
Hike the Inca Trail: This trek usually takes four days and on the fifth day you will explore Machu Picchu. Hiking to Machu Picchu allows you to see several ruins that are only accessible by foot.
Trujillo: This, Peru's second-largest city, is located along the Pacific coast in the north of Peru. The colonial architecture and vibrant colors are stunning. There are plenty of other attractions in the area, including the spectacular mud-built structures at Chan Chan.
Although we are offering you a plethora of suggestions for what to do in Peru, remember that visiting another country is not just about cramming in as many activities and seeing as many things as possible. It is also about truly experiencing the place. This involves eating the food, taking time to talk with locals, and just sitting around taking it all in. Be careful you don't plan too much that you miss out on connecting with Peru itself.
How to get around in Peru
By bus: The best way to travel throughout the country is probably by bus. Tickets are reasonably priced and (at least in our experience) buses run on reliable schedules. You can often find a bus that runs overnight if traveling long distances, such as our trip from Arequipa to Lima. We recommend the Cruz del Condor company. For less than $30 USD we purchased two tickets on a very comfortable vehicle with clean restrooms, a meal served, and reclining seats. This certainly was  not what we expected! These buses are designed for tourists more than they are for local travelers. If you take the local bus (as we did from Cusco to Ollantaytambo), you are more likely to ride in a fifteen passenger van that is much less comfortable. These tend to travel shorter distances, though.
By plane: There are locations in Peru that are incredibly remote or involve crossing challenging terrain that is more difficult for buses or trains to navigate in a timely manner. Traveling from Lima to Cusco or Lima to Iquitos are examples of when it is more appropriate, or even necessary, to fly rather than take a bus. You will fly into Lima from your home country and then catch a local connecting flight to any location throughout Peru. Most of the major cities have airports with flights arriving from Lima. The larger cities operate flights to and from each other on local airlines. Expect to pay much more to fly. Our tickets from Lima to Cusco were around $200 USD each!
What else should you know?

Food: Peru is known for its succulent cuisine, particularly in Lima, where the seafood is world renowned. Unfortunately, neither of us is a fan of seafood, but we hear that Ceviche, the quintessential Peruvian dish, is a must for seafood lovers. We quite enjoyed the Alpaca, ourselves. Others will enjoy Cuy, or fried guinea pig, a Peruvian tradition and delicacy. If you're looking for something sweeter, try the Churros! There are also plenty of delicious beverages in Peru, including some great beers, Coca tea, and the famous Inca Kola.
Language: The primary language in Peru is Spanish, but most people in the Andean regions speak Quechua as their first or only language. Spanish tends to be their second language, but it is likely they will not speak much English, if any at all. If you connect with any tour companies, your guides will speak English. Most hotels have receptionists who speak good English as well. Learning a moderate amount of conversational Spanish before you visit the country is highly recommended, but not vital. It will just make your experience there run more smoothly. Plus, it's always great to be able to converse with locals in their own language, isn't it? The people of Peru were extremely gracious to us as we struggled to converse in Spanish. They encouraged us in our learning and seemed quite grateful that we tried first to communicate in Spanish and resorted to English once we exhausted our knowledge of Spanish.
Health: The biggest health concern with traveling to Peru is the possibility of experiencing altitude sickness. Both of us experienced some symptoms throughout our entire two weeks in the country. Symptoms include headache, dizziness, shortness of breath, and loss of appetite. Expect to experience some affects of the altitude and allow yourself plenty of time to adjust before attempting any strenuous physical activity (like hiking the Inca Trail!). If you are traveling throughout the Amazon region, you could be at risk of contracting malaria and should see a physician several months before your departure to receive the proper medication to prevent infection.
Peru is an incredible country with a wealth of cultural, architectural, and geographic wonders. If you only have two weeks available to travel, there's still plenty you can do in the country. We found it to be so impressive that we may have to plan a return trip to see the rest of it!