The Sacred Valley of the Incas, is located in the Andes of Cusco, between the towns of  Pisaq and Ollantaytambo, parallel to the Vilcanota River and at a height of 2,8000 msnm (meters above sea level).
Its climate oscillates between 15ºC and 20ºC. Throughout this Valley one finds diverse architectural and archeological monuments that do not go unnoticed by the diverse eyes of its visitors.
The Vilcanota Valley, is one of the most lovely and magical places in Peru, since in it one finds diverse towns with its historical churches, enigmatic archeological remains, platforms and sowing fields where the best corn in the country is grown.
Inside the Sacred Valley of the Incas one finds the town of  Calca. Pisaq, Urubamba -with its districts in  Urubamba-, Ollantaytambo -city that is found intact and whose houses are still inhabited by its native inhabitants-, Machu Picchu, Maras, Huayllabamba, Yucay and Chinchero-all belonging to Calca.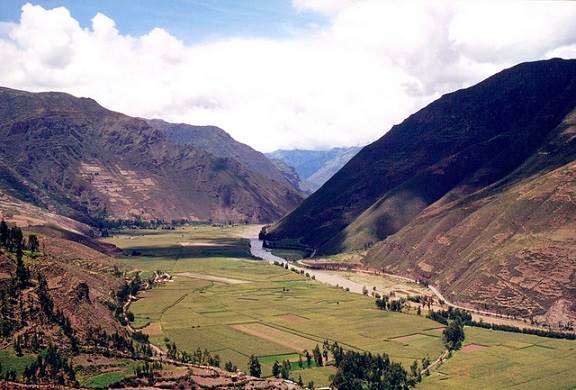 It is precisely in  Urubamba where one can perform various activities such as:
Walks.
Rafting or kayaking through the river.
Paragliding or delta wing.
Thermal baths.
Horse rides.
Others.
In the Sacred Valley we may visit the great archeological remains of the Incas that were utilized as residences, forts, supply centers and resting places, where one can walk, enjoying not only the architecture, but the nature that accompanies it as well.
Or buy diverse types of crafts from the areas of  Pisaq and Chinchero, where one finds the two most important crafts markets in Cusco.
To reach the Sacred Valley of the Incas, one may follow two routes that have 24 hours bus service:
1.By the  Cusco – Pisaq Road, some  32 km from the city of Cusco.
2.By the Cusco – Chinchero – Urubamba Road, some  72 km from the city of Cusco.
The Sacred Valley of the Incas was a much appreciated place during the Inca era for being privileged not only by its climate, but also by the fertility of its land; furthermore.
Here you can practice adventure sports such as andinismo (climbing the Andes), trekking, mountain cycling, etc.
It's for this and many other reasons that the Sacred Valley of the Incas is a great place to oxygenate the lungs, get the legs to work and where the visitors' eyes may appreciate the beauty that surrounds him or her.