If you have thought about traveling to Cusco to get to know a little more about the history of this city, center of the Inca empire, and have a more full experience, we recommend to visit the town of Chinchero.
Chinchero is a small town that is located to 28 km northwest of Cusco, in the Sacred Valley of the Incas, and to a height of 3,762 msnm. This town is surrounded by the snow covered Salkantay, Soray and Verónica.
Due the high grounds of Chinchero it can be expected to find infertile lands, but to the contrary, Chinchero is characterized for being one of the largest granary towns of Cusco. In its lands it is sown ollucos, potatoes, gooses, barley, beans and wheat.
Based on history, Chinchero was the place where the inca Túpac Yupanqui chose to establish residence, where he commanded to build beautiful palaces. In 1536, Manco Inca rebeled burning Chinchero to avoid the Spaniards chase and this way he would be able to escape to some place in the jungle.
Some time later, the viceroy Toledo, during his visit to Cusco, stopped in Chinchero, where he established a reduction of indians (these were centers, where the Spanish American indians had to settle down separated from where the Spaniards lived) and he commanded to built a church that is still there in present times.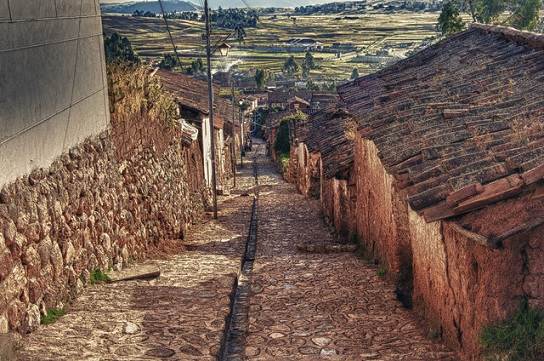 In present times, Chinchero is a very traditional town, thereftre no matter how much the Spaniards tried that the inhabitants of this place obeyed their orders and customs, they were not able; they preferred to continue being faithful to their culture.
Until today they continue having as their native tongue the Quechua, they continue using their suits of typical colors carrying out their Sunday fairs.
The inhabitants of Chinchero go from their homes toward the main plaza every Sunday to organize the Sunday town fair and to be able to offer their products for sale or to carry out the already so familiar "exchange" (exchange of products).
Chinchero is a good place to visit if what you want is to have an experience much more alive of what was the thousand-year-old culture of the Inca, therefore it is found expressed in the walls of the homes, in the streets, the church, in the clothing and in its already famous Sunday fair that you can not to fail to visit.