With more than 3,000 years of antiquity and recognized worldwide as the "Archeological Capital of South America", "Cultural Heritage of the World", "Cultural Heritage of Humanity", "Tourist Capital of Peru", "Cultural Heritage of the Nation", and "The World's Navel", Cusco is the most visited Peruvian city.
This city is the owner of an astounding and rich culture in all of its aspects and of one of the world's wonders: Machu Picchu.
Cusco is a city in the Peruvian southeast, which is located in the oriental zone of the Andes Range and is found in a valley which was formed thanks to the  Huatanay River and  the adjacent mountains.
This city's population s found distributed in five districts:  Cusco, San Jeronimo, San Sebastian, Santiago and Wanchaq. It borders on the north with Junin and Ucayali; on the south with  Arequipa and Puno; on the east with  Madre de Dios; and on the west with Apurimac and Ayacucho.
It presents an altitude of 3,350 msnm (meters below sea level), approximately, which is why it is considered as one of the highest cities in the world and one should take precautions because of this.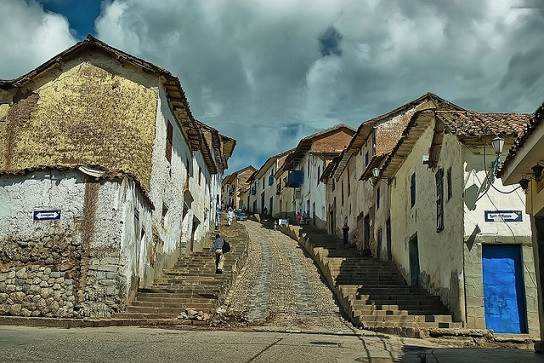 The climate of Cusco varies between dry and temperate.  The maximum temperature is approximately  20º C counting with two seasons:
April to October: the average temperature is  13º C and the dry season, with many cold nights that go approximately below  5º C.
November to March: the average temperature is 12º C and is the rainy season, with nights whose temperature drops to approximately  5ºC or 6ºC.
Cusco's founding  has been given a mythological explanation, based on the legend of Manco Capac and Mama Ocllo, and those of the Ayar Brothers. Furthermore, it is known that this was Incan territory and the capital of its empire and kingdom, which was conquered by the Spanish and founded by Francisco Pizarro on March 23, 1534, who named it "Cusco, noble and grand city".
Cusco is one of the best tourist destinations; the place enjoys exotic flora and fauna, typical dancing and food; aside from its already recognized architecture, history and culture.