The Causa Rellena, which literally means the cause's stuffed, is a common delicacy found throughout Peru and is the perfect meal for tourists dying to explore Peru's unique and diverse food culture. Two hearty slices of fried potatoes seasoned with a tinge of lemon and the Peruvian spicy aji pepper tend to sandwich a type of chicken and mayonnaise salad or seafood salad in your standard Causa Rellena. Not only do we Peruvians are so endeared with it because of its amazing taste, but its historical context is of great importance too.
Why is It Called a Cause?
The "Causa Rellena's" origins can be traced back to the Pacific War where Peru and Bolivia formed an alliance in order to combat Chile. During that time period, Chile wanted to seize control of the world's saltpeter (a natural chemical used for gunpowder and farming) trade.  It was during this point in time that roughly 97% of the world's saltpeter was in the Antofagasta and Tarapaca providences of Chile.
Peru's army, composed mainly of indigenous peoples armed with antique rifles, held their ground from invading Chilean forces. With their stand against the Chileans came a shortage of supplies. The women who accompanied the soldiers known as "rabonas" made due with what little they had in order to feed the Peruvian batallions. With a little ingenuity, they were able to.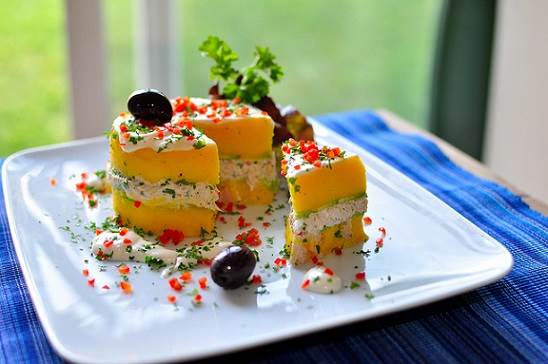 With Peru being the potato basket of South America, anyone could have guessed correctly that said plate would have potatoes. For the Causa Rellena, the women went door to door taking donations of what food they could from villages. Along with the spuds, they were also able to collect carrots, corn, peas, and much more.
After figuring out a way to blend all of the ingredients together perfectly and present it in a convenient sandwich-like form, the ladies would feed the soldiers uttering the most triumphant encouraging words a starving battle-weathered soldier could hear: "This is for the cause."
Out of necessity and ingenuity, this historic dish came to be.