It is well known around the world, that there's definitely truth in the importance of mineral waters for good health and in helping to restore and improve oneself from illnesses that confront us with the passing of time. One of the most important Natural Baths in the world, rich in all these talked about minerals, is located in northern Peru, in Cajamarca and is more commonly known as the Incan Baths.
The baths are located 6 kilometers (3.7 miles approximately) east of Cajamarca. Not only do the Incan Baths have a very important place in Peruvian history due to  it being the precise location where Atahualpa was at, at the moment of the Spanish arrival; but also its importance is cemented in Peruvian culture because during the Incan Empire, only the most intimate circle of the imperial royalty was allowed access to these baths, as well as some of the military generals that were preselected personally by the Inca.
It's name in Quechuan is "Inti Puquio", which means "Sun Source;" named this way due to the high temperatures of the waters. In recent calculations, the baths see an influx of around 4 million tourists every year, coming from all corners of the world and making the Incan Baths the main attraction of Cajamarca. In this circuit of thermal waters you'd find the Poza de la Inca (the Inca's Pool), which measures four square meters with a depth of 1,7 meters. According to history, this pool is where the Inca Atahualpa rested before meeting with the Spanish.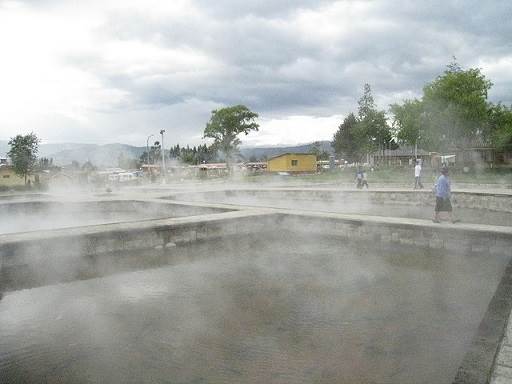 Healing Properties
The Incan Baths has thermal waters that are over 70 degrees Celsius (160 degrees Fahrenheit, approximately). In several studies conducted to test the kinds of minerals found in these waters, it's been found that the waters have a chemical composition that possesses therapeutic qualities that can treat osteoporosis and the nervous system.
The heat of the water is a result of its nearness to volcanic hotspots, that remain hot yet inactive, and can remain so for an innumerable amount of time. These hot waters are a natural source for sodium, potassium, lithium, calcium and iron. Its medicinal waters are especially effective towards the treatment and prevention of rheumatoid pains, and skin issues.
This place, aside from truly having a gorgeous natural landscape and plenty of tourists lodgings, also has alternative cures for nearly every known health issue.  The water surfaces from the volcanic rocks and it's healing properties, tested by science, are known world wide.