In the middle of the forest of the department of Amazon, full of its green tones and trees of great size, inhabited by colorful species of animals, we find one of the five highest waterfalls of the world: The Gocta.
This wonder of nature had been discovered in the first years of our century, when the German Stefan Ziemendorff carried out works of drinking water in the zone and determined that the height of the Gocta Falls was of 771 meters high.
Nevertheless, its discovery is wrapped in a halo of mystery, since the natives knew about their existence, but they protected it for fear to a curse: a siren and a gigantic snake live in their water.
The Legend of the Siren and the Gold
The natives relate in great detail this legend, which explains why they did not notify the authorities of their existence.  It is said that a beautiful siren of blonde hairs hounds the men that approach the falls, attracting them with her song and seduction, until drowning them in the water.
Likewise, another version is told: in the base of the falls is found a full pot of gold filled to the top, which is protected by a gigantic snake that eats the adventurers that dare to approach the treasure.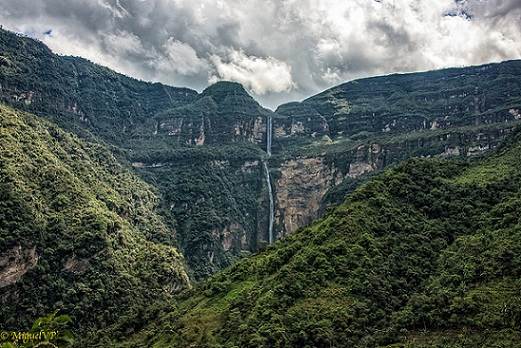 It's also told the story of Juan Mendoza, a peasant that disappeared for omitting to pay attention to the warnings of the inhabitants of the settlement and disappeared mysteriously of the place.
These stories are told to the adventurers and investigators that arrive to the town to caution them, but up to now it does not have any proof of the existence of mythological creatures and neither of disappearances.
How to arrive?
The company Inka' s Paradise offers a full – day program, where the persons who are interested will go on foot from the town of Cocachimba, to a few minutes of the city in their own vehicle, to the very base of the falls.
On the road, we will be able to see how the leafy nature goes changing while we approach this wonder made up of four gigantic falls that will cause us to feel small before this aquatic colossus.
The tour includes lunch and a visit to the cane fields, where the famous trapiche is elaborated and a look to the Pitaya petroglyphs, signs of the old men chachapoyas, that inhabited the town thousands of years ago.
Where to lodge in Chachapoyas?
Being that Chachapoyas is the main city for this journey, we recommend the Hotel Casa Vieja, that will offer us complementary tours through the city, it will also assure us that nature will welcome us within and we will have a complete ecological experience.