The combination of an excellent climate, grape seeds, dedicated work and focused distillation, produces its efforts a special drink considered the most representative of Peru: Pisco. It being our native product, we definitely invite all the tourists and foreigners that arrive in our country, to have a taste.
Aside from Peru's viable culinary presence, the pisco tastings, and the sweet wines produced in the valleys of Ica, there exists various "tasting tours" that allow for traveling to the area where the most famous and valued liquors are produced from our grapes and made in a purely artisanal manner.
El Catador (The Taster)
The international tourism firm, Isango, offers tourists, foreigners and locals alike, an all around package to the liking of all and any who would like to take a tasting tour. It includes a guided visit to El Catador, one of the oldest established vineyards in Ica, where they have sessions showing exactly how the drink is produced.
Before the start of the wine tasting, a mini runthrough is given through its wine cellars – built in 1856 – where you'd be able to see the process of producing the wine and pisco, as well as see the location where its famous Harvest takes place – between the months of February and March – which is also where Miss Peru and a bunch of other beautiful models participate in a mass "stepping of the grapes." During this event, the juices of the grapes are extracted to make the wines. Once finished with the guided tour, the next stop would be the tastings of the wines made at the vineyard, and the offering of the best piscos available to us.
Accomodations
The Libertador Hotel, located in close proximity to the Paracas Reserve, is one of the best options for those who would like to experience the complete Pisco Tour. Its various facilities guarantee a fun time for the whole family, as well as lots of speciliazed activities to choose from for the children while the adults relax and enjoy the pool and beaches.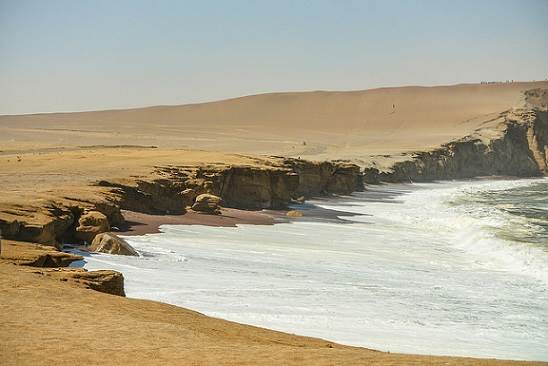 At the same time, the hotel has a luxury spa, which will leave its spa-goers completely relaxed in one of its saunas, jacuzzis and Vichy showers.
What to Bring
Ica is known as the City of Eternal Sun, which is why it's recommended that you bring light clothing and sun block for those of us with delicate skin types. And as a prudent and cautious reminder, make sure to begin the tour only once you've had a filling breakfast. Avoid going on an empty stomach, to ward off any unwanted effects afterwards.