For the ceviche:
1 kilo of fresh white fish fillets, skin and bones removed (tilapia or sea bass work well)
150 ml lime juice (approx 7-8 limes)
2 tablespoons of aji rocoto red chilli paste
One large red onion, finely sliced
A clove of garlic, minced
A handful of coriander, finely chopped
Half a cup of fish stock
3 tablespoons evaporated milk
2 sheets of nori, finely sliced into ribbons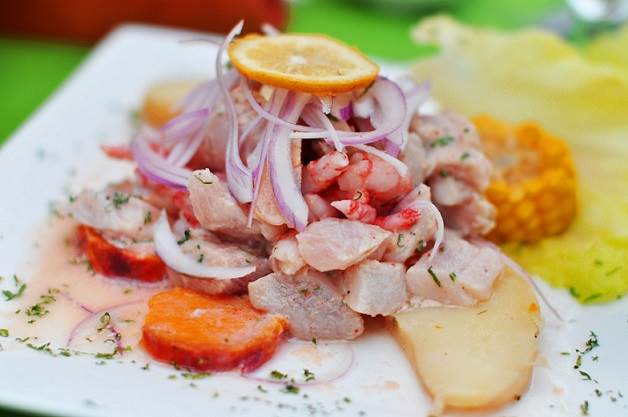 To serve:
A cooked sweet potato, peeled
One boiled corn on the cob
A few handfuls of toasted cancha corn nuts
Step-by-step instructions:
Begin by preparing your fish fillets, slicing into thumb-sized pieces with a sharp knife. Too thin, and the ceviche will lose its firmness – too thick, and the lime juice won't 'cook' it properly. Transfer from the chopping board to a baking dish.
Add the salt to the lime juice, stir, and pour all over the fish pieces. Wait for 6-7 minutes. You should see the fish becoming whiter as it 'cooks' in the fruit juice's natural acid.
Add the fish stock, garlic, coriander and rocoto red chilli paste and stir again. Then add the evaporated milk. Stir it and taste. You can add more chilli, salt or pepper if you want – but we recommend keeping these as condiments on the table so your guests can add to their taste.
Use a slotted spoon to plate up the fish equally amongst your serving plates, leaving the liquid in the bowl for now.
Then add your sliced onions to the liquid marinade, mix together and pour it over your fish.Serve with a quarter of a corn cob and thickly sliced pieces of your sweet potato, then add a handful of toasted salted cancha corn nuts and garnish with the thinly sliced ribbons of nori seaweed.