Every visitor of Lima comes for an unforgettable experience, for a selection of the most recommended atractions and touristic circuits of Lima. The City Tour & Catacombs its a comprehensive circuit on touristic bus and deluxe service. We'll have a panoramic tour of Huaca Pucllana in Miraflores, cruise through the streets of Lima, enjoy a guided tour of Plaza de Armas and the catacombs of Convent de Santo Domingo. A historic experience with the comfort and fine attention of a luxury touristic service.
Lima and its history
Our rout starts with a panoramic visit to Huaca Pucllana, a ceremonial center build in the IV century and considered sacred land by the Incas. Here we'll learn about the early cultures in the valley of Lima. Next stop is the peaceful park El Olivar, an extensive olive grove in San Isidro. The tour continues to Historic Downtown as our guide tells us about the stories, gastronomy, cocktails and traditions of Lima.
From archaeology to contemporary art
Our first stop in Historic Downtown is the museum of Peruvian culture by the Central Bank of Reserve, elegant space where you will find a complete exhibit of Peruvian artistic treasures; gold jewels, ceramics, pottery, fabrics and instruments from the most important cultures of antique Peru. We'll also see contemporary artworks from the different regions of the country.
Colonial Lima and catacombs
Our tour continues towards Plaza de Armas, touristic center of Historic Downtown. We'll learn about the foundation of Lima and its stories, the various religion orders and the most important events of this City of Kings. The walking tour takes us to the fountain, the cathedral, the traditional balconies and the Palace of Government.
We'll head to Convent of Santo Domingo, this time to explore under the city. The Catacombs of Lima is a underground circuit of rooms and tunnels that served as an cementery for the old religious orders. We'll visit the Convent to see its artistic treasures and continue into the profound tunnels of the catacombs. An amazing experience.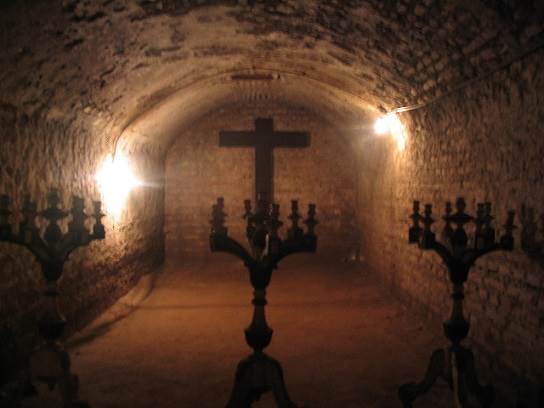 The tour ends in Miraflores and the ocean views of Costa Verde.
Recommendations and considerations
Passengers should wait in the lobby of their hotel according to the start times listed in on our tour time's schedule (9:15am to 9:45am). For regular tours, a pick-up time can be extended by up to 15 minutes after the actual scheduled time. Passengers pick-up from other districts such as San Borja, Barranco, La Molina, etc. have extra charges – please enquire. Museum Banco Central de Reserva is closed to the public on Saturday and Sunday afternoon. Mondays closed all day.