Lets take a tour to discover the hidden streets of Miraflores and San Isidro as we ride towards the stories and memories of Historic Downtown. The Bike Tour of Lima will show us this intimate part of our city, starting with the old civilizations at Huaca Pucllana, to the beautiful architecture and parks of San Isidro, and finishing with a fascinating tour of Historic Downtown Lima. A comprehensive touristic rout through the best of our capital city.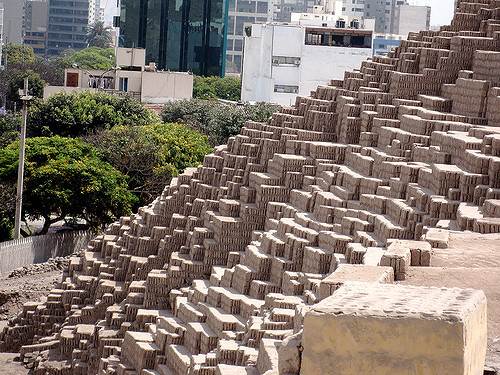 Between history and actuality
Our tour begins in Miraflores district by a amazing monument frozen in time, the Huaca Pucllana (100 aC – 650 aC). Here we'll learn how early cultures developed in the valley of Lima.
The tour continues with a soft ride to the beautiful gardens of El Olivar, a green area filled with olive trees in San Isidro. This is one of the most peaceful places of our city.
Bike Sundays in Arequipa
San Isidro and Historic Downtown Lima are connected by the Arequipa Avenue. This six kilometer avenue is closed to motor vehicles every Sunday, that means a comfortable and safe ride to Historic Downtown. Another great reason to enjoy this bicycle tour.
Historic Downtown Lima
In Historic Downtown we'll visit the most representative parks, monuments and plazas of Lima. Lets stop for a moment in Plaza San Martin to learn about its history and french influence. As we ride freely through the streets and passages of downtown we uncover the mysteries of this old City of Kings. Lets continue our rout to Plaza Mayor, the main area of Historic Downtown and meeting point for local and foreign visitors. Here we'll see the Cathedral, the Palace of Government and the City Hall, among other known buildings.
The flavors of old Lima
Lets make a pause from our tour to enjoy the ambience and flavors of one of the oldest taverns in Lima, El Cordano. Here we'll enjoy their traditional asado sandwiches, ham sandwiches, mussels and potatoes with huancaina sauce. A place filled with nostalgic tradition.
After this light snack lets continue our tour to the Santo Domingo Convent, the republican balconies and a few famous streets of Lima. The tour ends at Plaza San Martin, where you will be free to continue your adventure through Historic Downtown Lima.