Come enjoy the sun and the most beautiful views of Lima in a relaxing bicycle tour of the bay. Discover beaches, gardens and breathtaking natural landscapes in the only capital of South America by the ocean. The Bicycle Bay Tour will take you to visit the amazing hidden areas of the malecon in a rout through the districts of Miraflores, Barranco and Chorrillos. Enjoy their colorful gardens, astonishing water fronts and great moments between friends in this comprehensive tour by the sea.
Beautiful Costa Verde
The tour starts its rout in the Miraflores district, right at the waterfront of Costa Verde. From this elevated malecon you'll learn a little bit about the history of Lima in relation to its ocean. The important moments of memorable personalities in Lima will surprise the way of this fantastic guided tour of the bay.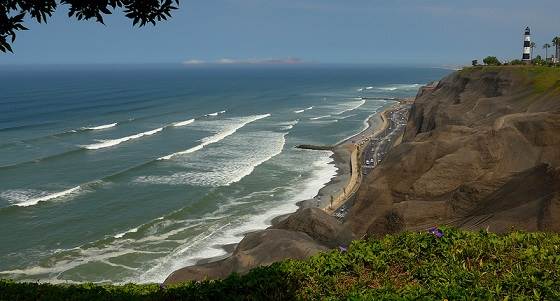 From Miraflores to Barranco
The guided tour continues towards Barranco district, bohemian place of artists and local musicians. There you will enjoy its colorful spots full of trees and vegetation, learning even more about the history of Lima and its people. The rout continues to the touristic area of the district: el Puente de Los Suspiros and Barranco's Main Square. Old mansions and manor houses filled with charm and tradition will make you feel welcome to the bohemian and art of this part of our city.
Historic Chorrillos
We continue near the coast towards the old district of Chorrillos, historic place for our city since many battles were fought here in defence of Lima. Now a days Chorrillos maintains its beauty in its architecture and sea front. Lets go even closer to the ocean, right in front of La Herradura. From this point you will observe a natural area of the coast. Surprise yourself with the jump of the monk and the great views of this part of Lima.
Traditional flavors
Lets take a break from our tour to visit a traditional huarique of Lima, El Juanito, where we'll taste a few local specialities, such as the asado sandwich, serrano ham, north ham, sardines in oil and local drinks. The price of your tour includes a choice of sandwich and drink.
After this we will continue our tour towards the Love Park and a few atractions of Miraflores. A day to enjoy.