Lima might be shunned by most backpackers and skipped over by travelers in a hurry to get to Cusco and Machu Picchu, but this city in recent years has become a modern, elegant metropolicy with an eye on the future and a young vibrant population. Lima is no longer just a stop over destination with high crime and pollution. Sure, the pollution is still hanging around and the crime isn't exactly a thing of the past but shining above all that, Lima is becoming a modern city with world class parks, museums, shopping, dining, and nightlife. Miraflores and the areas around this coast-side neighborhood are where the "new" Lima has risen.
Shopping at The Larcomar Mall
Miraflores is a hip, trending district and of course has plenty of great shopping. Walk along any of the neighborhood streets and you'll pass shop after shop offering everything from unique, custom designed dresses to the much-loved Nike brand. If you don't feel like walking, just head to the Larcomar Mall which sits right on the edge of the Miraflores cliffs, looking over the ocean. Here you can buy global brands or local designer pieces and even stop by your favorite back-home restaurants like TGI Friday's or Pizza Hut.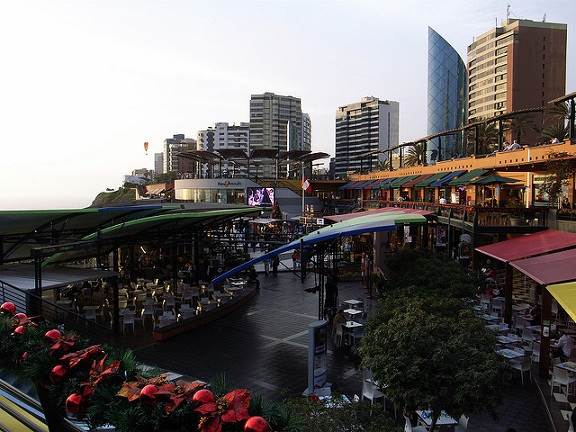 Fine Dining at Astrid & Gaston
Lima has always been a great place to find amazing food but since 2006, when it was declared "Gastronomy Capital of the Americas" by the Fourth International Summit of Gastronomy, the food has only gained more notoriety. With a fusion of traditional Inca flavors, the tastes of Spanish cuisine, and the influence of a number of immigrant groups (Japanese and Chinese in particular), the culinary scene of Lima is complex and delicious. You can't leave the city without at least trying a ceviche, the national dish of Peru, which here on the coast is second to none. The best place in town for ceviche is a highly contested subject but head to the world renown Astrid & Gaston restaurant for ceviche that helped the restaurant land on the Top 50 Restaurants in the World List.
Nightlife in Barranco
Just down the coastline from Miraflores, Barranco is another neighborhood with a modern, global feel. Unlike Miraflores though, Barranco still has a small-town feel with a bohemian vibe. It is a favorite place for young Peruvians and travelers alike. The bars and clubs in this neighborhood offer a relaxed beachside vibe and are great places to meet new people – locals and other backpackers. Make sure you order at least one Pisco Sour, the drink of Peru, before you leave.
Couple Travel Tips
If you enjoy exploring a new city by foot, you should definitely book a hostel in Miraflores or Barranco. These are some of the safest neighborhoods in Lima and good places to walk without worrying too much about being robbed.
The above being said, still watch out for pickpockets – one of the most common crimes against tourists in Lima.
Traveling as a couple, you probably won't have to worry as much, but if you do find yourself alone at a bar, watch your drink and be wary of people being "too" friendly. Spiking drinks and date rape drugs are a growing problem in Lima clubs.