Lima is a city travelers love to hate. Polluted, big, ugly, and with a reputation as a dangerous, pickpocket filled city, Lima is usually no more than a stop over for backpackers. Did you know though that Lima was once called the "City of the Kings" and was a rich, powerful colonial power in the New World? Most people fly through Lima, giving it no more than a night or two on their way to "bigger & better" sites but Lima is a true gem on it's own. With a historic center dating back to the founding in 1535, Lima has some of South America's most impressive colonial architecture and world-class museums. See what "old" Lima has to offer up…
Plaza de Armas
The center of the old historic center, the Plaza de Armas or Plaza Mayor is supposedly the exact spot where the city was first founded in 1535 by Francisco Pizarro. Originally the name was "The City of the Kings" in Spanish but the old native Quechua and Aymara name of Lima was what survived through the years. The Plaza is a beautiful example of Spanish city planning and is surrounded by many of the city's "must-see" architectural sites – The Cathedral of Lima, the Government's Palace, the Archbishop's Palace, and others.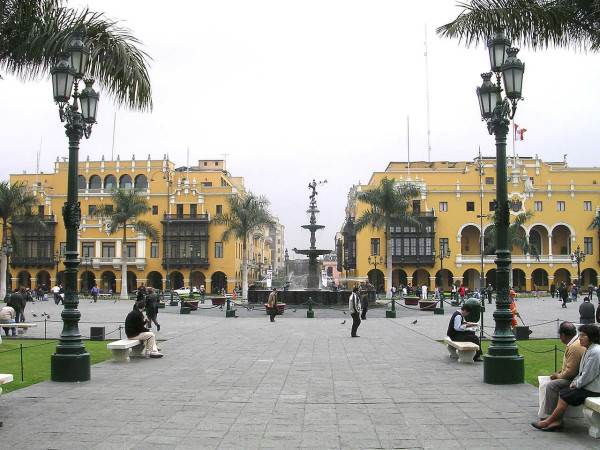 Palacio de Torre Tagle
The balconies of this colonial building are shockingly beautiful. Build by Don Bernardine Jose de Tagle Portocarrero, the Palace is one of the most famous of Lima's historic architecture sites. Now-a-days, it holds the office of the Ministry of Foreign Affairs.
Catedral de Lima
Every new city in the America's had to have a cathedral and Lima's is a grand one. The cathedral standing today is actually not the original; not even close. The cathedral has been rebuilt a number of times over the decades after suffering a number of earthquakes and deterioration.
The Church and Museum of San Francisco
If you like a bit of creepy mystery on your travels, the catacombs of the San Francisco monastery is a great place to visit. The catacombs hold the remains of thousands of the city's early residents but the museum and library of the monastery hold the real wonder for history buffs. The library is home to some of the New World's oldest and best preserved documents and early books.
Palacio del Gobierno
The Palace of the Government, another beautiful, historic building, is best seen around noon when the guard is changed. The palace is the official home of the President of Peru and his family.
Couple Travel Tips
Consider visiting the old historic center after dark, when all the buildings light up and the whole area looks beautiful. It is actually one of the favorite date night spots in the city, as is evident by the unusual number of flower and "stuffed animals" for sale, and the streets stay filled with couples 'til quite late.
Whether you visit after dark or in the middle of the day, watch your camera and bags. The area is patrolled by police and relatively safe but bag snatching and pickpocketing is all too common.
If you are thinking of doing a walking tour in Lima, the old historic center is where you'll most want a guide. These streets are filled with history and it is really nice having a knowledgeable local showing you around and explaining all the sites. There are even a number of free walking tours of this neighborhood – ask about them in your hostel.