The night before the 1-day Inca Trail hike, you should prepare two bags.
The first is an overnight bag for your stay in Aguas Calientes. You should pack whatever you need for the night in Aguas Calientes after the hike and for the next day when you are exploring Machu Picchu and returning to Cusco. There is only room on the train for a small bag, so your bag should contain just the essentials.
If you took Diamox to adjust to the altitude when you arrived in Cusco, you may want to pack it. Machu Picchu is a few thousand feet lower than Cusco. You might want to take Diamox before you return to Cusco so that you don't get a headache.
You might also want to pack a swimsuit if you plan to soak your sore muscles in the hot springs at Aguas Calientes. You can easily rent a towel in town.
The second bag is a backpack that you will carry during your hike. I'd recommend packing the following items:
1) Passport—you must show your passport or you will NOT be admitted to the trail. Your passport must match the information you gave on your trip application.
2) CamelBak—you will do a better job of staying hydrated, which is very important at altitude, if you drink from a CamelBak rather than a water bottle. It is more convenient.
3) Rain poncho—even if it is sunny, you should prepare for rain. Weather can change quickly in the mountains.
4) Hat, sunglasses, and really good sun block—you will definitely want protection from the sun. The first part of the trail is completely exposed.
5) Insect repellent—you might need insect repellent at Machu Picchu to avoid biting flies and mosquitoes.
6) Hiking poles with rubber tips—you can only use hiking poles that have rubber tips on the Inca Trail.
7) Snack—you might need additional food during the hike. Pack some energy bars from home or quinoa bars from Cusco.
8) Electrolytes—you will want to make sure you have energy during the hike. Shot Bloks or sports jelly beans can help.
9) Bathroom kit—you might need bathroom supplies, such as a Kleenex pack, small Ziploc bag, and hand sanitizer.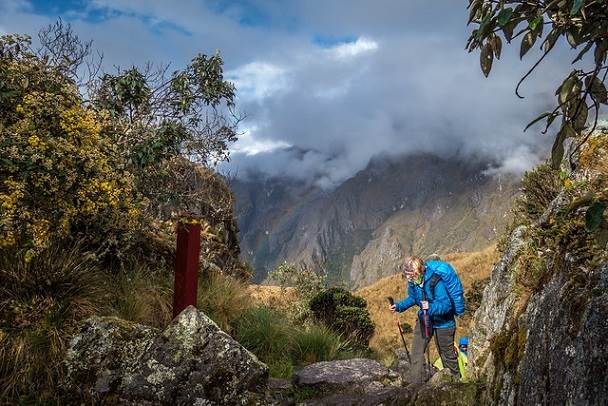 10) Camera—need I say more?
11) Money—you will need to pay 1 sol to enter the bathroom at the base of Machu Picchu. Also bring coins and bills in case of an emergency.
12) Moleskin—you might need to treat blisters.
13) Extra socks—you might want to change socks in the middle of the hike.Also make sure there is room in your backpack for your box lunch and any layers you might shed during the hike.