We were met by Mary and John Alexander, our guide, at 6:30. While we weren't able to print our boarding passes for our flight from Juliaca to Lima due to a glitch in the LAN website, Mary made sure that we were checked in for our flights and were assigned seats.
Two members of our group had been bumped on the flight from Lima to Cusco. So she made sure that this wouldn't happen again. As it turned out, there were a couple of people who had been bumped on the return flight. But, thankfully, we got on the flight without a hitch.
Our first stop was the Umayo lagoon, a body of water that at one time was a part of Lake Titicaca. However, as the earth moved and reformed, the lagoon was cut off from the main lake and eventually formed a separate body of water.
As there were six of us, we were met by three boatmen (one was a woman) who rowed for about a half hour to the wild vicuna preserve on Umayo Island.
The morning mist lifted as we paddled silently through the shimmering glasslike waters. This truly felt like a spiritual experience and one that I will never forget.
Once on the island, we spotted several baby vicunas, although our guide told us that normally, a larger flock could be seen. However, the few that we encountered were curious enough to gingerly approach our group.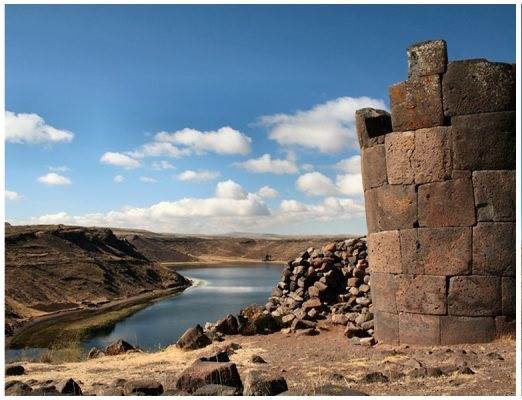 After leaving the island, our "boatmen" rowed another 15 minutes to the Umayo Peninsula where we visited the Sillustani Towers, a pre-Incan burial site along the shores of Lake Umayo. These distinctive towers were built to house the remains of noble families, although many of their treasures were stolen by grave robbers.
After wandering through the burial grounds, we headed back to our van to have lunch in a "restaurant," which was basically a family's home, just a few minutes from Sillustani. Lunch consisted of soup, chicken with vegetables, and a peach enveloped in a homemade cream followed by mint tea.
By 11:15, we were on our way to the domestic airport in Juliaca in order to catch our flight back to Lima. Our plane took off at 1:00 and we landed at 2:30. We were met, once again, by Gustavo and a driver who took us back to the Hotel Miraflores for our final night in Peru.
We spent that afternoon on our own walking along the cliffs of Miraflores that overlook the Pacific Ocean. We wandered through flower bordered walkways, a shopping mall, and a lover's park with a very large statue positioned in the center of the park depicting a couple in an amorous embrace.
We were tempted to try the paragliding. But by 5:00, they were packing up their parasails for the night.
The Miraflores section is filled with people and is a fun area so we were happy to spend the afternoon wandering around in this safe section of Lima.
Dinner was at a very good Italian restaurant, Bodega Trattoria, about two blocks from our hotel.
After dinner, we took a leisurely stroll back to our hotel for our final night in Peru.
More stories of our Peruvian adventures coming soon!