There were two morning hikes – one at 7:00 and one at 10:00. We chose the 7:00 AM hike because we had heard that the trail was very narrow and by hiking early we'd avoid having to pass others on the trail.
The morning was cool and overcast, just perfect for the strenuous 1,000 foot climb. The trail was a series of switchbacks and stone steps that crossed from one side of the mountain to the other. At times we'd catch our breath with a slight descent. But most of the time, we headed continuously uphill.
Two thirds of the way up the mountain, we caught our first view of majestic Machu Picchu.
Yes, it was a strenuous hike. But, it was well worth it as we reached the summit of Wayna Picchu. As I gazed upon the landscape below, I thought of the generations of people who has passed before us on this spiritual land of rugged, snowcapped mountains, rivers, rapids, and plateaus of golden grains. Peru is truly a marvelous country full of rugged beauty. We stayed at the top for about 20 minutes before beginning our descent back to Machu Picchu.
By 10:00, we were back at our hotel, which gave us enough time to shower and change before the 11:00 checkout time. By 11:30, we were on a bus on our way back to Aguas Calientes.
Originally, we had planned to go to the hot baths, but we had heard from other tourists that the water became quite "murky" by the afternoon and that there were no facilities to wash up afterwards. So, we opted to catch a quick lunch at a sandwich shop and take a leisurely hike along the Urubamba River to the Inca Museum in Machu Picchu pueblo.
Our guide, Liset, was a wealth of information about the travels of Hiram Bingham and the 100 years that marked the peak of the Inca Empire between Pachacuti and Atahuelpa. Many of the artifacts in the museum were found when mudslides during the rainy season uncovered treasures of the past.
After a leisurely walk back to the town, we went to a restaurant for some ice cream before heading to the train station to collect our suitcases from the porters who brought them down from the Sanctuary Lodge so we wouldn't have to cart them around during the day.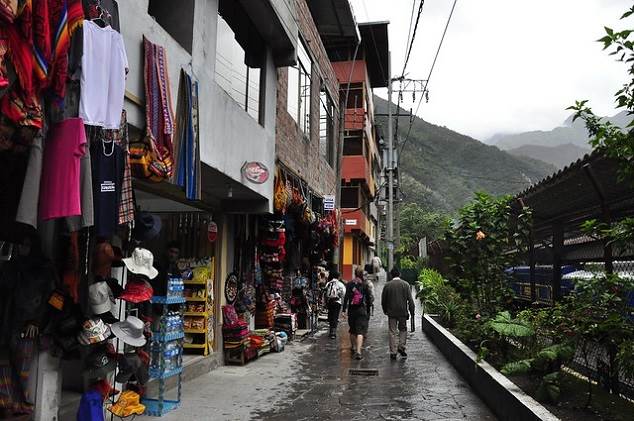 One word of caution about buying ice cream in Aguas Calientes is that it is very expensive and not a common Peruvian treat. (This was perhaps the only time we felt "ripped off" in Peru.)
Our train left Aguas Calientes at 6:10 and we arrived at Ollantaytambo at 8:00 where we were met by Armando who escorted us back to our hotel.
We had dinner at Mayupata, about a 10 minute walk from our hotel, which we really enjoyed. The fish, for the first time, wasn't overcooked and everything seemed well prepared.
More stories of our Peruvian adventures coming soon!