We celebrated my birthday on the Andean Explorer train, a 10-hour ride through the high Andes (elevation 13,975 feet). This is a luxury train that looks like a living room with sofa-like seats, tables, and lamps.
The train ride took us through pueblos built of the traditional mud bricks, which are made of straw, sand, clay, cactus juice (which acts as a binding agent), and are baked and cured in the sun over a period of several days.
It was a pretty relaxing day as we wended our way through the countryside filled with llamas, sheep, cattle, farms of mud brick and corrugated tin roofs.
We were entertained with a fashion show of alpaca ponchos and scarves, musicians from the Andes, and Andean folk dancers.
The landscapes in the first few hours of the trip were spectacular as the train chugged along through gorgeous valleys with the ever present Urubamba River flowing alongside our train.
Prior to lunch, we headed to the observation car for a better look at the scenery. We were treated to Pisco Sours and a fashion show.
Lunch was a two-hour process as the waiters and waitresses had to make their way from the head kitchen car to the four passenger cars followed by the observation car. We dined on quinoa soup, trout with vegetables, and a chocolate and vanilla mousse.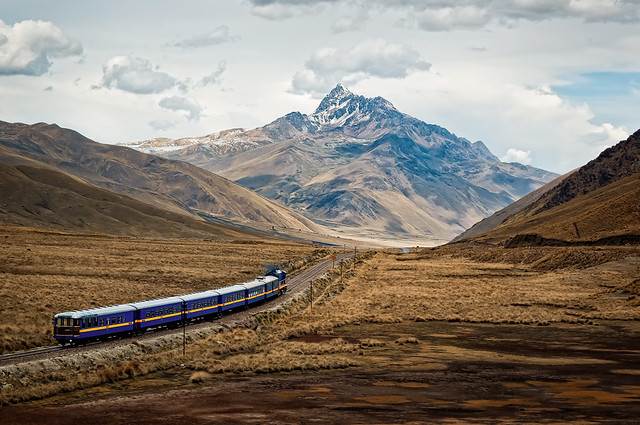 After lunch, we stopped for 10 minutes to supposedly "stretch our legs" right by an improvised market with all sorts of woven Andean crafts. Women fought over us like we were bait tossed into an ocean full of hungry fish to try to sell us their wares. Vendors even walked up to the train while we were waiting on the tracks ready to leave to try to sell us their wares. It was an Andean onslaught of sellers!
In the afternoon, we were treated to Pisco Sour lessons in the observation car. Later on, the musicians and dancers treated us to another show of exotic folkloric dances.
As we neared Puno, we passed the Andean University and lots of little towns. One, in particular, had their market on both sides of the train tracks and some of their wares were literally displayed in between the tracks.
By 5:30, we were served tea and a light snack before arriving in Puno. Upon arriving at the Puno train station at about 6:30 P.M., we were greeted by Mary, an associate of Diane Valenti from Llama Expeditions.
Yes, it was a long day – 11 hours on the train. I personally enjoyed the first 7 or 8 hours when the time passed quickly, although the last few hours felt a bit tedious. Would I recommend it to travelers reading this blog? Absolutely!
Mary helped us with our check in at the hotel and reviewed what we were to expect the following day.
After settling into our rooms, we had a light dinner in the hotel dining room. The evening was quite cold and rainy. So we really appreciated the fires that glowed brightly in their grates.
More stories of our Peruvian adventures coming soon!