If you have limited time in Peru, the 1-day Inca Trail is a great alternative to the 4- or 5-day hike. The 1-day version gives you a taste of the longer Inca Trail experience as well as some of the bragging rights.
Training:
The best way to train is to hike. On the 1-day Inca Trail, you will be hiking approximately 7 hours, with stops, on hilly terrain. If you can consistently hike 5 to 7 hours on hilly terrain at home, you will be in good shape for the trail.
You can learn more details about the trail on our website.
What to Wear:
Hiking pants
Wick-away shirt
Hiking socks
Liner socks
Hiking boots, broken in and comfortable
Jacket and/or fleece
Bandana to protect your neck from the sun
Sunglasses
Sun block
Hat
Insect repellent as needed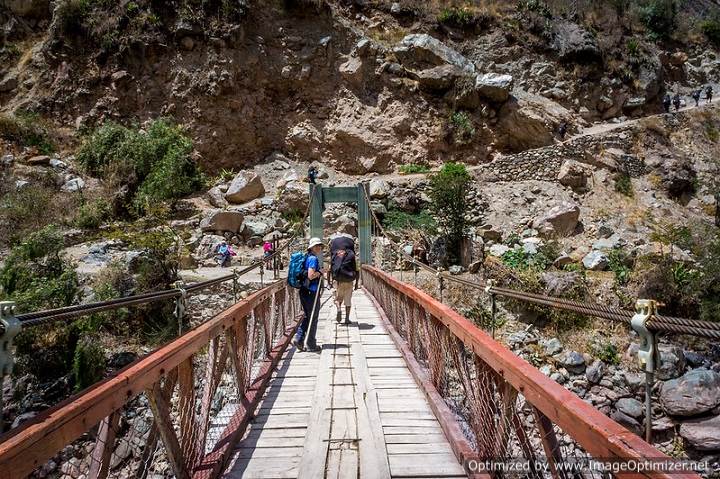 What to Expect:
You must hike the 1-day Inca Trail with an approved travel company.
You will start early to make sure there is plenty of daylight so you can overcome any unexpected delays. You will take the train to KM 104 with your guide, cross a bridge, and check in at the control point to gain access to the trail. You must show your passport at the control point or you will not be admitted to the trail. Your passport must match the information you gave on your trip application.
The control point is also the last place to use a bathroom for several hours. The next bathroom is at the last campsite before Machu Picchu. And, the third and final bathroom is at the base of Machu Picchu. You need to pay 1 sol to enter this bathroom.
At the end of your hike, you arrive at the Sun Gate in Machu Picchu. Usually, there is not enough time to tour Machu Picchu at this point in the day. Your Inca Trail ticket allows you to come back the next day to tour Machu Picchu.
Safety Tips :
1) Take your time. Hiking at altitude is more like strolling than hiking. You won't have fun if you rush too much and are out of breath the entire time. Also, please don't worry about delaying your group. No one is ever left behind.
2) Stay close to the mountain. There are parts of the trail that drop off steeply, especially as you get close to Machu Picchu. You do not want to fall off the trail.
3) To let faster hikers pass, step towards the mountain so that they don't accidentally knock you off the trail.
4) Wear broken-in hiking boots that provide good support. Part of the trail is dirt and part of it is the old Inca stone road. This means that the ground is uneven and can be slick when wet.
5) Eat and drink when you need to. Do not forget to eat your electrolytes or you may run out of energy.
6) If you don't feel well or are having a problem, let your guide know. Don't suffer in silence.