I, my husband and three other couples decided to check Peru and Machu Picchu off of our bucket list. Our research started with the internet (tripadvisor.com is my "go-to" site of which I'm a top contributor) in order to find an appropriate travel agent and itinerary.

After many e-mails and phone conversations, we worked with Diane Valenti (Llama Expeditions) to come up with an itinerary that would satisfy everyone's needs. Our objective was to have an authentic Peruvian experience with just our small group of travelers. We were not disappointed.
What we discovered was that Peru offered far more than Machu Picchu. This is a beautiful country with gorgeous landscapes and very kind and gentle people (aggressive market vendors notwithstanding).
The only pre-vacation glitch was that one couple was unable to go on the trip at the last minute for medical reasons. Fortunately, we had all taken trip insurance to cover the air and land package. Should you decided to plan a similar trip, make sure you spend a few hundred extra dollars for trip insurance. It simply is not worth skimping on insurance when you're planning an expensive trip.
We took off at 11:55 PM from JFK and landed in Lima at 7:30 A.M. This was the best sleep I ever had on a red eye flight. We each took two over-the-counter sleep aids just as we buckled ourselves into our seats. I remembered taxiing on the runway but I fell into such a deep sleep that I never even felt the takeoff. Apparently, I slept right through the "dinner" service and didn't wake up until 7:00 AM our time (6:00 Lima time) when the flight attendants came around with the breakfast service.
As dawn broke, the sky was grey and overcast. What appeared to be a semi-dense fog was really a veil of smog that hung over the city as we approached the airport. Lima's climate is arid and cool from May to November with lots of mist and low clouds. The Andes Mountains, directly to the east of the city, tend to trap pollutants which contribute to a semi-permanent haze. On the flip side, May is an ideal time of year to visit Machu Picchu and Cusco. Rain won't ruin your hikes and you miss the heaviest crowds of tourists when they peak in July and August.
Taking nothing but carryon luggage was a breeze since we didn't have to wait in baggage claim. In all my years of business and pleasure travel, I have finally learned that we need much less than we think. For added "insurance", I always bring a 3 oz. bottle of liquid detergent and quick drying underwear and tops. Light weight safari pants are also great to travel with because you can unzip the legs in case of warm weather and they too dry very quickly.
After a few minutes, our guide, Gustavo, showed up with our driver to take us to our hotel in Lima. Traffic in Lima is unbearable. What should have been a short 20 – 25 minute drive took us a little over an hour. There are few traffic lights so making left and right hand turns on busy roads is challenging. A highway that runs along the coast from Lima to the airport is in the process of being built which will eventually ease traffic conditions.
We stayed at the hotel Miraflores, a beautiful Orient Express hotel with excellent service in a great neighborhood. It is an upscale district in Lima with luxury high rise apartment buildings, condominiums, parks, shopping malls, restaurants and nightspots for young Peruvians.
On our second to last day in Lima, we strolled along the cliffs of Miraflores that overlook the Pacific Ocean and watched the hang gliders as they "floated" through the air. The streets were filled with young people enjoying each others' company, particularly in Lovers Park which featured a huge sculpture of a couple embracing.
As part of our private package, we paid for the buffet breakfast at the hotel to start our day in Lima. We also paid for one "early check in" room so we could store our bags, freshen up, eat breakfast and then meet Gustavo at 10:15 in the lobby for our city tour where we spent most of the day in Lima Centro, essentially the old city where all the government buildings and offices are located. Few people live in Lima Centro. It's a bustling place during the day but quite dead at night. So, we were quite happy with our choice of hotel in the Miraflores district and highly recommend this location.
Our first stop was at a typical Peruvian market. After mining (Peru's largest industry), agriculture and fishing are their #2 and #3 industries followed by tourism at #4. The market was a cacophony of colors with so many different fruits and vegetables that we don't often see in North America.
We tasted Granadilla, a fruit that on the outside looks like an orange (albeit with a very hard skin that cracks like an egg) but inside is a sweet passion fruit. We saw huge bins of choclo (corn) and manioc, fresh meats and seafood. In fact, the crabs in one stall were still moving!
Peru is a very catholic country as evinced by the altar positioned in the center of the market with a statue of the Virgin Mary, baby Jesus and votive candles placed alongside the alter. Some facts we learned from Gustavo during our walk through the market:
slavery was abolished in 1850 so many Chinese immigrants came to Peru to fill the need for manual labor.
7% of the population is African
1/3rd of the population lives in Lima
During the 1980′s, inflation was rampant thus causing the mountain populace to come to the city to work as street vendors. The upper class left en masse and entire buildings became abandoned. Some of these incredible buildings were built in the French Classical style and are owned by corporations that maintain them although they are virtually empty. As a result of the mass exodus from Lima, very few people live in "old town Lima".
After getting some Peruvian soles at the ATM (approximately 2.5 soles per dollar), we walked along Jiron de la Union, a pedestrian street filled with shops, banks, restaurants and the occasional church decorated in an elaborate baroque style.
While American fast food restaurants are ubiquitous in Peru, they do try to blend in with local styles when located in the heart of Peru's cities.
After a few blocks, we reached the Plaza Mayor, site of the Presidential Palace, the main church and numerous other governmental buildings. Gustavo explained that the site of the Plaza Mayor was the location for the original Inca Temples and was once filled with their statuary. Apparently, the conquistadores tore all of it down and built their own structures right on top of these Incan treasures. Today, all the buildings (with the exception of the church built in the 1600′s) are relatively new having been built in the early 1900′s.
Most of the buildings have stone or concrete facings.  However, just underneath the facades, they use a combination of bamboo with mud and plaster ("Quincha") so the buildings retain flexibility during earthquakes. Even the church towers were built with this "Quincha" material but were faced with stone.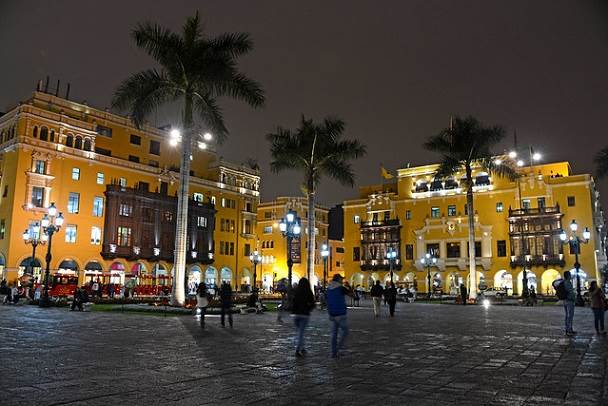 A short walk from the Plaza Mayor, we came upon the Aliaga house built in the traditional Spanish colonial style that has existed since the time of Francisco Pizarro, founder of Peru's capital city and conqueror of the Incan Empire. Eighteen generations of Aliagas have lived in this house. Parts of it are open to tourists and entry fees cover some of the maintenance costs which must be considerable. Beautiful wood ceilings, floors and trim were brought in from Central America in the 1500′s since good quality trees for building materials are in short supply in Peru. Many of the furnishing are original pieces from several centuries ago.
I ordered a "Causa" filled with avocado and tuna fish. As Gustavo explained it, the story behind the "Causa" dates back to the three year period from 1821 when Peru declared its independence from Spain and 1824 when the Peruvians finally consolidated their independence. Since food was scarce, women would stretch their meals by making this dish consisting of potato layers that would stick together (Yukon Gold potatoes are what we might use to recreate the "causa") and could be filled with avocado, tuna fish, chilis, meat or any other type of filling in order to "stretch" the meal. The "Causa" could often be seasoned with lime and other spices, all in the name of "the cause"!
After lunch, we went to a still active Dominican Monastery (the Torre do Monasterio de Santo Domingo) built in the mid 1500's. As we walked through the underground catacomb with 20,000 bodies buried underneath the church, it was quite a macabre site to see all those bones neatly organized – skulls, femurs and pelvises. Up to 200 monks used to live in the monastery but today, only 40 remain.
By 4:00, we were on our way back to the hotel so we could check into our remaining room, unpack and rest a bit before dinner.
We met Gustavo and our driver at 7:15 and went to La Rosa Nautica for dinner. This is a beautiful restaurant situated at the end of a long and winding pier over the shores of the Pacific. All along the pier, there were stores selling upscale Peruvian goods.
We had a wonderful three course dinner that also included an aperitif (we had our first of many Pisco Sours) and a glass of wine. I had ceviche which was well prepared, mahi mahi and a homemade ice cream made from a fruit called lucuma.