When I hiked the Inca Trail, I was astonished to see the porters literally running the trail in sandals made of rubber from recycled tires. They bounded up steps, hopped over rocks, and skipped from side to side as graceful as gazelle on the African plain. I kept waiting to see a porter stub his toe or twist his ankle. It never happened—at least not that I saw.
I also saw tourists hiking the trail in sneakers. Maybe they were inspired by the porters' less-is-more approach to footwear. Unfortunately, the tourists were far less successful. By the time they arrived at the Sun Gate in Machu Picchu, they were nursing horrible blisters. I can't even imagine how painful their feet must have been.
The Inca Trail is a serious hike. You cover 26 miles over four days. The trail involves large elevation gains and losses. The surface consists of soft dirt, paved stone, and stairs. It is uneven. If it rains during your trek, the trail becomes slick.
As a result, you should plan to hike in a pair of well broken-in, preferably waterproof hiking boots. Here are a few more tips that can help you avoid sore feet:
1) When you buy new hiking boots, bring your favorite insoles and hiking socks with you. You should choose boots that accommodate both without pinching your feet.
2) Buy men's hiking boots. This is a tip from my podiatrist. According to her, men's hiking boots are better made than women's hiking boots, so they last longer and promote more stability. Stability is particularly important because the more your feet move within your hiking boots, the more likely you are to develop blisters.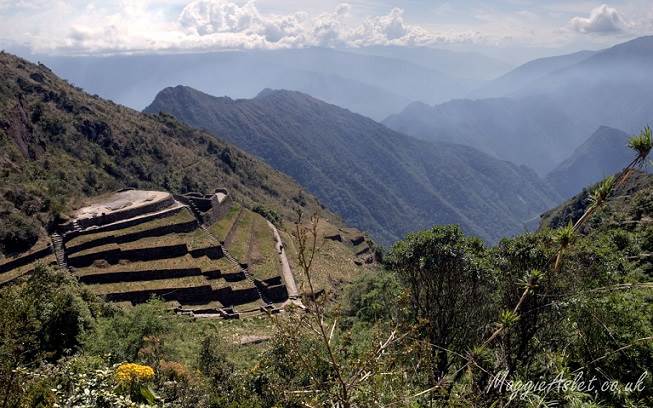 3) Replace the insoles. Most hiking boots come with poor quality insoles. You may want to replace them with something that promotes more stability.
4) Use hiking and liner socks. Hiking socks have extra cushion on the bottom that can make hiking over hard surfaces more comfortable. They come in varying thicknesses. Liner socks provide an extra layer to reduce friction between a thick hiking sock and a boot.
5) Pack waterproof sports tape. You can buy this tape at most drugstores. Ballerinas use this tape to bind the hot spots on their feet before they put on their pointe shoes. You can do the same to prevent hot spots from turning into blisters.
Taking these steps will help ensure that you can enjoy your Inca Trail experience rather than survive it.