Peru's natural beauty is expressed in its protected areas, spaces where one can observe, up close, the most exotic species of flora and fauna living together in locales unique for its genre, like the ones that characterize the Reserva Nacional de Salinas and Aguada Blanca.
The Reserve
The Reserva Nacional de Salinas and Aguada Blanca is located between the regions of Arequipa and Moquegua, in the southern Peruvian sierra.  It is famous for possessing a combination of the most imposing snow-capped mountains, lagoons and inactive volcanoes in the country, like the Misti volcano  5 821 meters in height-the  Chachani volcano (6 075 meters) and the Pichu Pichu volcano, 5 440 meters.
In this marvelous place, one can appreciate whole sections of Andean forests and Higher Andean prairies, which counts among its predominant species the  yareta, the queñual and the kcapo, which are used as a food source by the native livestock and as fuel to provide light and shelter to the inhabitants of the countryside.
One can also admire the beautiful lagoon of Salinas, inhabited by groups of flamingoes and parihuanas, and the Indio lagoon, where various aquatic birds nest and find refuge.  As well as, various species of mammals are observed like the taruca, fox and vicuna, whose population inhabits the Pampa Cañuas and Tocra zone, which has spectacular geological formations.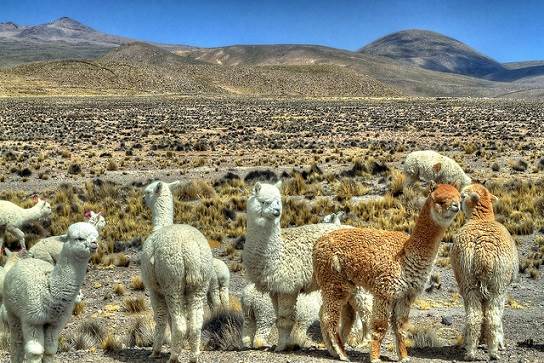 The natural charm of Salinas and Aguada Blanca is combined with major hydraulic engineering Works, like the reservoirs of El Fraile and Aguada Blanca, which provide potable water to the agricultural countryside and the city of Arequipa.
The tour
In order to get to know the Reserva Nacional de Salinas and Aguada Blanca, you may contract the services of the Cumbres Andinas agency, who has four day tours to Arequipa, one day of which is scheduled for a visit to the Reserve (you may request that day of the tour exclusively or complete it with the rest of the itinerary).
The service includes pick-up at either the airport or the bus terminal in the city of Arequipa, transportation, accommodations at a preferred hotel, the journey with professional guides and food, including dinners with shows (regional music and dancing).
We recommend
Arequipa's most exclusive hotel is the Hotel Libertador Ciudad Blanca Arequipa (Plaza Bolívar s/n, urbanización Selva Alegre), located two blocks from the Plaza de Armas and considered to be the best accommodation option for business travelers.
This hotel has a restaurant, bar, parking, gym, nanny services, laundry, pool, wireless internet connection, business center, 24 hour room service, safe deposit boxes, heat and air conditioning, etc.
For your visit to Salinas and Aguada Blanca, it is highly advisable to bring comfortable clothing (sportswear), sunglasses, sun block for skin and lips, a cap, bottled water to rehydrate and a camera in order to capture the best moments of your trip.