If there is one thing that characterizes Peru it is its incalculable natural richness, composed of the most diverse species of flora and fauna that inhabit the dreamlike landscape that may only be observed in the native land.
Within our borders, one of the most important areas protected for its variety of flora and fauna is the Yanachaga Chemillén National Park, in the so-called jungle brow, which is the Amazonian tropical sub-region considered to be the rainiest in all of Peru, especially between the months of November through April.
The National Park
Yanachaga Chemillén is a combination of Quechua and Yanesha terms that are translated as "black" and "burnt" in allusion to the view of the mountains that border the Park.  Its total extension is 122000, 00 hectares, spread out over the districts of Oxapampa, Villa Rica, Huancabamba, Pozuzo and Palcazú in the province of Oxapampa in the region of Pasco.
As we penetrate the Yanachaga Chemillén National Park, we can appreciate four ecological formations.  The first of these is the Amazonian forest with its variety of species of woody vegetables and where you find the most people, among them, the natives of 60 Yanesha communities of the region.
The second formation to discover is the transitional forest with ravines that lead to the formation of the cloudy forest, which is characterized by its high humidity and cloudy atmosphere.  Finally, there are the open prairies or scrubs with little vegetation of grass and shrubs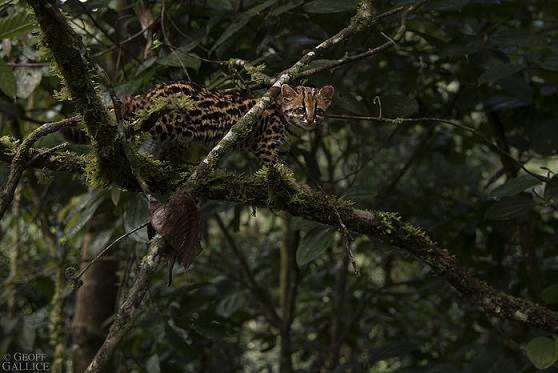 Through these sub-territories it is possible to know a bio-diversity composed of more than 1,000 species of fauna and 2,000 of flora.
The first is divided in 80 species of mammals (otter, jaguar, raccoon, etc.); 427 species of birds (cock of the rock, quetzal, toucan, etc.); 31 species of fish – like corvina and mullet – and 16 of reptiles, especially the pallet and the bushmaster.
As to the fauna, there are large trees with very resistant wood- for example, cedar, hickory, oak and  "Quenacho diablo"- and there are also beautiful species of flowers, such as, ferns, bromeliads, lianas and the worldly recognized orchids.
The tour
In order to visit the Yanachaga Chemillén National Park, you may engage the services of the  Prusia Tours Travel Agency, who organizes six day and five night tours (subject to variations according to tourists' time), which includes pick-up at San Ramón Airport, transportation to the Park, food, camping equipment and return to Lima.