Preguntas is the Spanish word for questions. I feel like I've been driving my team in Peru a little bananas with all of my questions.
The Inca Trail is no walk in the park. It's long—26 miles. And, you cross two mountain passes of nearly 14,000 feet each, okay 13,700 feet, but who's counting? This is why I'll be embarking on a rigorous training program before I attempt the Inca Trail and it's why porters are essential.
Just carrying a daypack with water, snacks, and a few extra layers of clothing can be challenging at that altitude. I can't even imagine carrying everything I'd need for a four- or five-day trek.
Not only do the porters carry your backpack, but they also carry all of the food as well as the tents and camp furniture. I'm not just talking about tents for sleeping either. There is the kitchen tent, the dining tent, and the bathroom tent, too.
The Peruvian government has stepped in to ensure that outfitters are not taking advantage of the porters. For example, before they embark on the Inca Trail, each porter weighs in to verify that he is not carrying more than the maximum weight-limit—25 kg (55 lb.). But horror stories still exist. I've heard of outfitters failing to send tents for the porters to sleep in or enough food for the porters to eat as a way to lighten the load. This allows guests to bring more at the expense of the porters.
Currently your backpack cannot weigh more than 20 kg (44 lb.) to which the porter adds 5 kg for his belongings. If your backpack is over 20 kg, you need to hire a second porter. I've learned much of this by peppering Americo, the jefe de operaciones, with a lot of preguntas.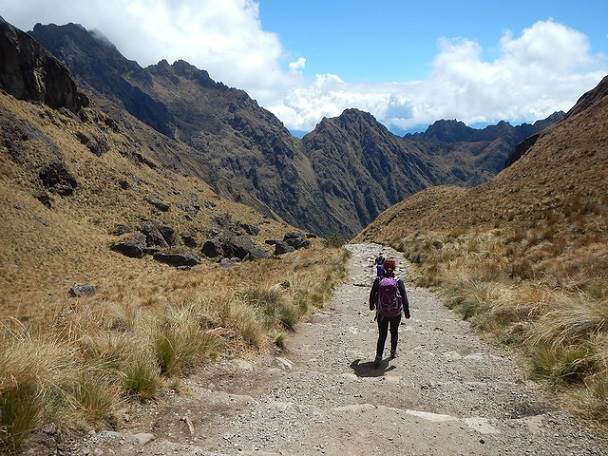 Some of the information I've been gathering will appear on my website, which is currently under development. I'll use the rest of the information to answer clients' inevitable questions. Here are a few additional salient facts I've picked up along the way.
First, I was relieved to learn that the Inca Trail has plenty of restroom accommodations. Americo assured me that the furthest distance between bathrooms is about a two-hour hike. So, you won't have to hunt for a particularly full bush if the need arises.
Second, eating on the Inca Trail is a gourmet affair. For example, there is a tea buffet in the afternoon complete with hot buttered popcorn. And for dinner, you might find yourself feasting on lasagna or trout. Seriously, people, no Chef Boyardee or SpaghettiOs here!
Third, there are showers available at the campsites. However, with the exception of the last campsite, the water is freezing cold. This is why most people opt to take a cat bath using the bowls of warm water the porters provide each morning and evening.
Fourth, don't even think about leaving your passport in the extra luggage you've stowed at the hotel back in Cusco. You'll be denied entry to the Inca Trail without it.
Finally, if you get hurt or become sick while hiking the Inca Trail, the porters will carry you out to a place where you can be taken to the local hospital by vehicle. There are no horses allowed on the Inca Trail. Likewise, helicopter rescue is not available.
In addition to driving Americo crazy with all of my questions, my friends in Cusco, Augusto Benito Vargas and his wife Patricia Herrera, have been willing victims, as well. Both are phenomenal tour guides located in Cusco with many years of experience. Augusto has hiked the Inca Trail more than 50 times and Patricia more than 20. In fact, the last time Patricia hiked the Inca Trail she was pregnant with their daughter Lucia. I guess they are eating their Wheaties in Peru!
One of the many incredibly informative things that they've helped me with is the grading of the Inca Trail according to the system used by the Sierra Club. Just in case you are not familiar with the Sierra Club system, here it is below.
Grade
Elevation Gain
1
Up to 6 miles
A
Up to 1000 feet
2
6 to 10 miles
B
1000 to 2000 feet
3
10 to 15 miles
C
2000 to 3000 feet
4
15 to 20 miles
D
Over 3000 feet
5
Over 20 miles
E
Over 3,500 feet
Now, here is how that system applies to the Inca Trail for both four- and five-day versions.
Classic Inca Trail (4 days)
Extended Inca Trail (5 days)
Day 1
2B
Day 1
1A
Day 2
1E
Day 2
1E
Day 3
3B
Day 3
2C
Day 4
1A
Day 4
2C
Day 5
2A
At any rate, I suspect that the preguntas are just beginning. I'm hoping that my Cusco counterparts have buckets of patience at their disposal or at least buckets of chicha to help dull the pain.