We were met at 7:30 by Mary and our guide, John Alexander. The first part of our day included a tour to the Uros floating reed islands. Mary left us after we crossed the train tracks in front of our hotel to get to the pier where our private boat was docked. It was a 25-passenger boat. But since we had booked a private tour, it was just the six of us plus our guide and the two boatmen.
After traveling through acres and acres of tall reeds, we came to a "toll-like" hut where our guide paid our entry fee to the floating islands.
Imagine our shock when we saw islands literally made of nothing but reeds lashed together. They appeared to be at least a full meter thick with multiple layers of reeds lashed together with rope. We learned that the islanders need to repair their islands twice a month as the organic material of which they are made eventually decomposes.
We also learned that a boat made entirely of reeds will last only 7 or 8 months, while boats that are filled with plastic bottles and then coated with reeds can last up to two years. The plastic bottles make ideal flotation devices. And, it's a great way to recycle the bottles since they can be used over and over again.
We got off on one of these fairy tale like islands and were greeted by what appeared to be a family of about 12 people. We visited their reed houses and shopped for some beautiful tapestries that bespoke of their history, pillow covers made of soft baby alpaca with designs of their heritage, and assorted jewelry (made of clay), mobiles, and whatnot. The souvenirs we bought on the Uros Islands were very inexpensive relative to some of the other places we stopped at during the course of our trip.
The head of the family and his young wife (21 years old) proceeded to show us how they made the islands. In addition, he had us try to guess the depth of the anchors that kept these islands in place. It turned out that these islands were anchored at a depth of approximately 58 feet. We visited their reed homes which were obviously quite spare. Of course, we did see that they had television sets in their huts with a satellite dish that would be for all members who lived on the island. We saw their "kitchen" (of course outside of their huts) with their cooking utensils.
Generally, two or three families live on each island. However, in case of a disagreement between families, they literally separate by sawing off a piece of the island and setting the offending family out to sea.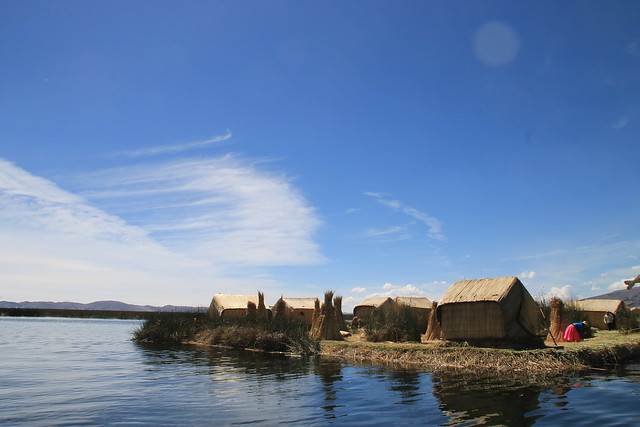 The Uros support themselves primarily through fishing and handicrafts. It's not an easy existence – particularly during the rainy season from December to April when it rains for a few hours just about every day. Even though we were at the beginning of the dry season, we still had rain in the evenings for 1 to 2 hours.
And, the Uros have to row about 20 minutes to get to their "toilet" facilities where they literally dump their "waste" into Lake Titicaca. Small children use chamber pots until a group of adults all head to their toilet facilities in groups of twos and threes. All bathing occurs in the lake alongside their floating islands.
Once a week, they head to Puno to buy necessary supplies along with fruits and vegetables. Their diet consists mainly of fish and they also eat the ends of the reeds, which are high in minerals and other nutrients. In fact, one of them even offered me a piece of reed, which my guide quickly told me not to eat because it contained bacteria from the water.
Lastly, a "grocery" boat wends its way periodically through the islands with a limited amount of supplies.
During a visit to a "boat-making" shop, we were instructed on the intricacies of making one of these magical looking vessels.
About 5000 Uros live in these floating communities (roughly 1,500 families) and about 60 to 70% of the young people leave and end up living either in Puno or other places on the mainland. Eventually, this unique culture will die out as more of the Uros are exposed to life outside of their floating islands.
By 10:30 or so, we set off for Taquile Island – about a two and a half hour boat ride during which John regaled us with stories about the Uros and the people we'd meet on Taquile Island, and answered our numerous questions.
On the way, the day was clear enough that we could actually see Bolivia on the other side of Lake Titicaca, although it wasn't clear enough to see the Bolivian glaciers.
Taquile Island, 4000 meters above sea level (about 13,000 ft high), is home to some 2,000 inhabitants. Rather than take us along the main section of the island which most tourists visit, our guide took us "off the beaten path" to a quiet and very beautiful section of the island where he pointed out various herbs, flowers and plants, and explained what many of them were used for.
We passed quaint little homesteads, rosy cheeked children, lots of farm animals and had to avoid stepping on tiny frogs, no bigger than my pinky nail, that exist in this region. After hiking for about a mile, we came to a tiny village where the inhabitants greeted us with leis made of bright red fuchsia – the national flower of Peru. They wore very elaborate and colorful clothing and greeted us warmly.
Lunch was served at their "restaurant," a crude construction with spectacular views of the sea and surrounding hillsides. We were treated to a lunch of quinoa soup, grilled trout, fried potatoes, and vegetables. We ended the meal with a steaming cup of mint tea.
After lunch, we bought a few of their crafts and headed back to our boat. On the way back, we saw the Uros out in their fishing boats as well as the sunset and lovely scenery as we passed various islands.
After approximately 2 1/2 hours, our boat docked at the Casa Andina pier.
For dinner, Mary made arrangements for us to eat at Los Balcones de Puno. Yes, it was a bit touristy, but the food was good and inexpensive, and the show (instrumentals, singing, and Andean folk dancing) was very entertaining. Mary also arranged for a round trip ride for the six of us in a private van.