Here are some of the most frequently asked questions, but it is by no means exhaustive and if your question isn't answered here, please don't hesitate to contact us and we would be delighted to help.
Where is Peru?
A. Peru is on the Western Coast of South America. Peru shares a border with Ecuador to the North, Colombia to the North East, Brazil to the East and Bolivia and Chile to the South. (Top)
When to visit Peru?
A. Peru has three very distinctive regions all with very different climatic patterns that create a very diverse and beautiful landscape. The three regions: The Andes are the mountains that run down central Peru, The Coastal area that is on the West side of Peru adjacent to the Pacific Ocean and The Amazon Rainforest is located in Eastern Peru. Although they are three very different regions, they are similar climatically in that they have two main seasons- the rainy season and the dry season. The guide below outlines the main weather conditions of the three main regions.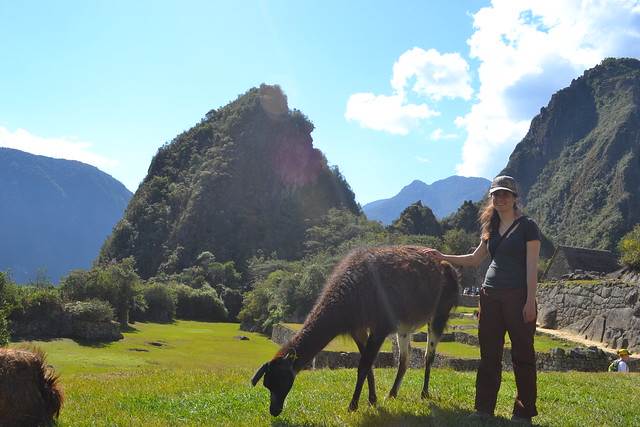 The Andes
Mid April – October (Dry Season)
The weather in these months is dry and hot during the day which makes it perfect for outdoor activities, be it cycling down a volcano or taking a guided tour around the majestic Machu Picchu the weather is very reliable and beautiful in this season. Due to the high altitude of the Andes temperature decreases significantly at night often hitting lows of 1 or 2 degrees Celsius.
The beginning of the dry season (May) is the best time to visit the highlands as the weather is dry and sunny, but the rainy season has just finished and the rivers are full and the vegetation is refreshed.
November – mid April. (Wet Season)
Although November to April is classed as the rainy season, most of the rain falls in January to February. The mornings are normally bright and crisp, but rain often interrupts the afternoon. Think Peru take into consideration these weather patterns and schedule indoor excursion in the afternoon and outdoor ones in the mornings.

The Coast
December – April
This is the Peruvian summer and the coast comes alive with families flocking from inland Peru looking to enjoy some sun, sea and sand. The beautiful warm weather of these summery months co insides with many a national fiesta- none are bigger than the famous Carnival. This energetic party begins on the Saturday and ends on Mardi-Gras (Shrove Tuesday).
Temperatures are very hot in this season and range from 25 – 35°C. The Pacific Ocean is perfect for a cool down after absorbing some strong equatorial sun rays.

May – November
The temperature in these months' drops and the sea cools down in most areas. The northern beaches are by far the best beaches to visit during this period despite them being a little cooler. Many Spas and tasty restaurants are open all year around catering for anyone looking for some rest and relaxation. This is also the beset time to visit the archeological ruins like Chan Chan as the hot arid location is cooler and walking around the site can be done at your own pace without worrying too much about the temperature.
The Rainforest
The weather is always hot and humid in the rainforest and each season offers something a little unique. This climate is very sticky, but our hand selected lodges will ensure that you are kept well refreshed and fed with beautiful fresh produce.
April – October (Dry season)
This is the most popular time to visit the rainforest as the dry conditions make it possible to follow some of the nature trails deep into the heart of the jungle from where you will come up close with many rare and exotic species.
November – March (Wet season)
The rainforest is very wet in this period and the Amazon River rises and fall by as much as 40 feet each year. Although some of the nature trails may be too difficult to walk, canoes become the main mode of transport in this region and your guide will to take you through this exciting ecosystem.
(Top)
What are the temperatures in Peru?
A. This graph gives average rainfall and temperature in Lima (Coastal location) and Cusco (Andean location). They are representative of the regions climate.
Lima
(Coast)
Jan
Feb
Mar
Apr
May
Jun
Jul
Aug
Sep
Oct
Nov
Dec
Av. High (°F)
77
79
79
75
70
68
63
63
63
68
68
73
Av. High (°C)
25
26
26
24
21
19
17
17
17
19
20
23
Av. Low (°F)
66
68
66
65
61
59
57
56
56
57
61
63
Av. Low (°C)
19
20
19
18
16
15
14
13
13
14
16
17
Wet Days
1
0
0
0
1
1
1
2
1
0
0
0
Cusco
(Andes)
Jan
Feb
Mar
Apr
May
Jun
Jul
Aug
Sep
Oct
Nov
Dec
Av. High (°F)
66
66
67
68
68
67
67
68
68
70
69
68
Av. High (°C)
19
19
19
20
20
19
19
20
20
21
20
20
Av. Low (°F)
44
44
44
41
37
34
34
34
39
42
43
43
Av. Low (°C)
7
7
7
5
3
1
1
1
4
6
6
6
Wet Days
16
12
10
7
4
3
2
2
6
8
10
14
(Top)
How do I get to Peru?
A. There are several Airline carriers that operate a good service from the United Kingdom to Peru. Depending on your location getting to Peru is easy from all major airports. Think Peru has always found KLM and LAN to be good services. All international arrivals in Peru land in the national airport in Lima (J Chavez International airport) (Top)
Do the guides and hoteliers speak English?
A. All of the Think Peru guides are bilingual and speak very good English. All of our hand picked hotels will also have English speaking staff. If you want to learn a few basic Spanish words this always goes down well with the locals. Here are a couple of useful words to start you off!
Thank-you – Gracias
Please – Por favour
Good morning – Buenas Dias
Good Afternoon – Buenas Tardes
Good Evening – Buenas Noches
(Top)
Will I need vaccinations pre departure?
A. Think Peru team has travelled extensively across Peru and we have been fortunate enough to have never suffered from anything major. However please be aware that you may need to receive a couple of vaccinations before you visit Peru.
The NHS suggests that if you are unsure about anything medical when travelling then to consult your GP at least 8 weeks prior to your holiday. It is likely your GP will discuss the following diseases with you: Illnesses such as Tetanus, Typhoid, Hepatitus A, and Hepatitus B have all been discovered in Peru. But a simple vaccination normally mitigates the risk of catching anything. (Top)
Is Peru a good destination for a family with children?
A. Peru is a fantastic place to visit with the family. A trip to Peru can be fun and very educational for children and their families looking for a holiday with a difference. Kids are very welcome in Peru and many restaurants and lodges cater for Children by offering Children's menus and child orientated activities.
Peru is an adventurous country and if your kids are interested in animals, the outdoors and learning about ancient cultures then Peru has everything. Children will never be bored in Peru as the country is so diverse and unique there is always something for them to do. They will be the envy of the playground when they tell stories of canoeing down the Amazon and seeing the ancient citadel of Machu Picchu. (Top)
What is the altitude of the place that I am visiting?
A. Many of the places you will be visiting in Peru are high in the Andes, which means we need to factor in time for you to acclimatise to the altitude within your itinerary. Most people are absolutely fine at altitude, but most do experience breathlessness during the first few days at altitude. You definitely do need to take it easy the first day or so (a bit longer before doing the Inca Trail), to let your body gradually get used to being at high altitudes. Below is a table of the altitudes of some of the most popular places that we visit.
| | | |
| --- | --- | --- |
| Place | Altitude in metres (m) | Altitude in feet (ft) |
| Arequipa | 2,350 | 7,710 |
| Colca Canyon (colca lodge) | 3,250 | 10,725 |
| Cusco | 3,399 | 11,152 |
| Inca Trai – | | |
| Dead Woman's Pass | 4,215 | 13,800 |
| KM 82 | 2,700 | 8,829 |
| Lake Titicaca | 3,810 | 12,500 |
| Lima | 500 | 1,600 |
| Machu Picchu | 2,430 | 7,970 |
| Ollantaytambo | 2,792 | 9,160 |
| Pisac | 2,972 | 9,751 |
| Puno | 12,500 | 12,500 |
(Top)
What is Acute Mountain Sickness (altitude sickness)?
A. Acute Mountain Sickness (AMS) is often referred to as altitude sickness. AMS is a condition caused by a lower amount of oxygen molecules present in the air. In mild cases this leads to symptoms like Headache, Nausea & Dizziness, Loss of appetite, Fatigue, Shortness of breath and Disturbed sleep. The team at Think Peru meticulously plan our trips to giving you the best possible route that allows for gradual acclimatisation to the altitude. If however, AMS does strike you should continue to keep well hydrated and descend.
Avoiding AMS is not an exact science but Doctors recommend the avoidance of alcohol and cigarettes and encourage you to remain well hydrated and to not over exert yourselves. Please speak to your GP is you have any other questions. There exists a drug (Diamox) that makes your blood more acidic and this then drives ventilation, which is the essence of acclimatisation. But this drug is not suitable for everyone.