Dolphin Amazon Cruises is the name of the most luxurious cruise ship that navigates on the Marañon and Ucayali River, bordering the Pacaya Samiria Reserve (one of the largest natural reserves in South America) located in the Loreto region, in pure Peruvian Amazon.
Currently, the Amazon is one of the most important tourist destinations in Peru, and Dolphin Amazon Cruises' work there is not only tourism; its importance transcends to its ships and itineraries. We are speaking of the social and environmental responsibility that this company took on from its beginning.
We can start by saying that all of the products used on the cruise ship, like shampoo, conditioner, soap, etc., are eco-friendly, since they do not harm the environment and all the water used comes from the same river after being treated on board by a filtration process.
If we are speaking of a social responsibility, we should emphasize that all the personnel comes from this region, which is to say that they only employ locals to take on duties within the cruise ship, ranging from waiters to the guides.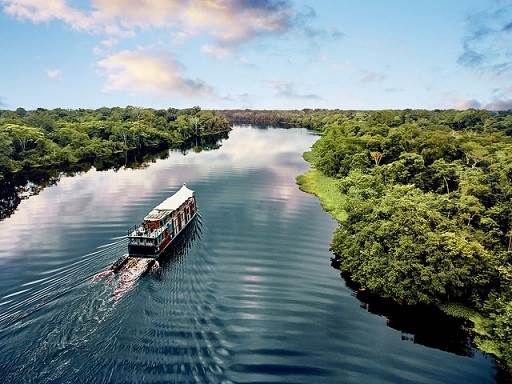 They also helped to create the Puerto Miguel Market, that began as a small workshop where women were taught various types of crafts which are the accessories used on the cruise ship for decoration and setting.
Dolphin Amazon Cruises always encourages the integration of tourists into the Amazon society so that they may learn about the population of the region and be able to see their needs and that way to give them the incentive to have the opportunity to be able to offer whatever help possible.
From the moment that a cabin is reserved, the cruise ship counsels its passengers that if they want to bring any type of aid, this be in the form of notebooks, clothes or anything for the good of the children.