The Cañón del Colca is not the only one in existence in Arequipa. Discovered a little more than twenty years ago by some adventurers, Cotahuasi, located in the province of La Unión, is a mixture of the rich Pre-Colombian heritage of Peru with the tradition of the existing towns around its foothill. Formed by the  Cotahuasi river, which originates in the Huanzococha lagoon,  at more than 4750 msnm (meters above sea level) in the Southern Andes is the Cañón de Cotahuasi which is an impressive geographic structure between the  Coropuna (6425 msnm), and the Solimana (6093 msnm) mountains.
Studies made by English scientists between 1991 and 1994 determined that the  Cañón de Cotahuasi is superior in depth to that of the Grand Canyon in the United States and of the one at Colca.
It is an impressive geographic phenomenon in which visitors may find rock forests, spikes, lagoons, thermal springs and an enviable bio-diversity:  viscachas, vicunas and condors that live near  Solimana.

The Sipia Falls
One of the most visited attractions is the Sipia Falls, located in the El Toro district, one hour by car from Cotahuasi. The landscape before our eyes is marvelous, since the closer we get to it we can see how the riverbed narrows towards the entrance of the falls and drops 150 meters, splashing against the rocks at the base which, when mixed with the morning sun gives us the gift of a beautiful rainbow.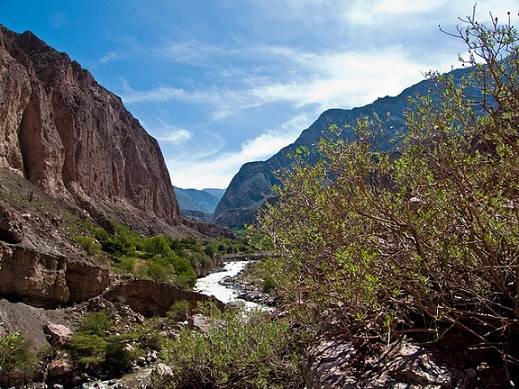 Snowcapped Solimana
The Solimana volcano is one of the most preferred by Alpinists who come to these spots searching for adventures in extreme sports.  It is widely visited between the months of April and November when conditions for securely scaling are favorable and at its peak the entire Cotahuasi canyon may be observed.
Thermal Springs of Luicho
17 kilometers from Cotahuasi is located the Thermal Springs of Luicho tourist complex,  which have acquired certain renown due to its medicinal and relaxing properties. The waters spring from the adjacent hill at a temperature of  38ºC and it is recommended for those who suffer from rheumatism, arthritis, stress and others.
Currently, the regional government of Arequipa has remodeled this locale in order to accommodate the large amount of tourists that come here to get healed.
How to get there
The company Sipia Tours offers a complete tour that takes us to the most important places in this Peruvian geographic jewel, specializing in trekking aficionados and photographers who wish to photograph the beauty of the natural places.