Located in the eastern sector of the Cordillera Blanca (White Mountain Range), the Conchucos Alley is a series of small valleys that accommodates a large amount of towns through 400 kms.  In it we can find dreamlike and traditional landscapes and magnificent vistas of an Andean landscape crowned by the snow of its hostess
The best way to reach Conchucos Alley is taking the eastern route, at an elevation of 163 km. from the road that unites Huaraz, the capital of the department of Ancash , with the city of Pativilca.  From there, we will walk 68 km. ascending the mountain slopes until we reach the mountain range.  If the climate is favorable, we can observe majestic snow capped peaks towards the left of the route like  Cashán and Uruashraju.
These snow capped peaks are the antechamber for a natural wonder:  the Querococha lagoon.  Its blue waters are next to the snow capped peaks of Pucaraju and Yanamaray, part of the Huascarán National Park.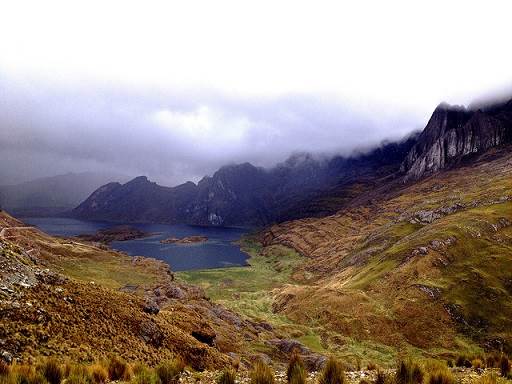 Once observing them, we will cross one of the highest tunnels in the world:  the Kauish tunnel, located at  4178 msnm, in order to later descend towards  Chavín de Huántar .
The region's capital
The Chavín de Huántar ruins are the entranceway to  Conchucos Alley.  In it we can find the vestiges of one of the first civilizations of Peru, the Chavin culture.
More than 2500 years ago Chavín de Huántar was an important center of religious pilgrimage for the inhabitants of ancient Peru, who would visit a stone oracle and leave offerings in order to obtain favors.  Due to this, it exercised notable influence over all cultural and political activities in the Central Andes.
The flower paradise
Exiting from Chavín de Huántar, we find the Rio Mosna Valley, also known as the magnolia paradise, since they grow in every garden.  Surrounded by crops and by towns dedicated to agriculture and animal husbandry, we find the town of Huari.
Here we find an example of the typical architecture of a town from the sierra:  narrow and inclined streets with adobe houses with ridged roofs.  It is a good place to rest and eat something at the central plaza, which always has important commercial activity.
Leaving from here, the route continues the course of the Huaritambo River, through all the central villages until reaching the picturesque city of Chacas,  the seat of the religious missions of Italian Salesian priests who do social work in the town.  Further downward, returning towards Huaraz, we find other landscapes that will be discovered by tourists who reach these lands.