The Sanctuary of Machu Picchu is located between the saddle of two mountains in a very remote (but beautiful) location, so space is limited and choice for restaurants and places to eat is even more limited. Here is a quick guide to eating at Machu Picchu, allowing you to keep hunger at bay, and enjoy your time at Peru's finest attraction to the fullest.
Tinkuy Restaurant
Situated just outside the main entrance to Machu Picchu, the Tinkuy Restaurant is a buffet style affair, put on by the exclusive Sanctuary Lodge Hotel. It's not cheap at US$ 40 per person (US$ 20 children 3 – 11 years old), but it is rather convenient and tasty. The restaurant is open from 11.30 am – 3.00 pm, and entrance can be purchased on the day or in-advance through your travel agent. The buffet includes soups, entrées, bread, salads, 4 choices of main dishes (pork, chicken, trout & streak) and a selection of desserts. Soft drinks, tea and coffee are included within the price, but alcoholic beverages are charged as an extra.
The Snack Bar
Also located just outside the main entrance gate, on the upper level above the souvenir shops is the Machu Picchu snack bar. With a view looking out over the stunning maintain scenery, the snack bar is a great place to have a relaxing break in-between touring. Typical snack bar food (and prices) are available, including sandwiches, pizzas, burgers, pastries and all the usual hot and cold drinks you would expect. The snack bar is operated by the Sanctuary Lodge hotel, so the quality of the food is not bad at all. The snack bar is open all day, from early morning until late afternoon.
Take a Box Lunch
Avoid the high tourist prices of the food at Machu Picchu and go prepared with a box lunch. Outside the main entrance there are several shaded areas when you can find refuge to eat a box lunch. In Aguas Calientes you will find many places that prepare box lunches, but one of the best is La Boulangerie de Paris (with a very talented and charismatic French owner). About US$11 will get you a box of tasty food complete with a couple of sandwiches, snacks, fruit juice and a bottle of water. Remember that the consumption of food is strictly prohibited within the citadel of Machu Picchu, so be sure leave the citadel itself before tucking in.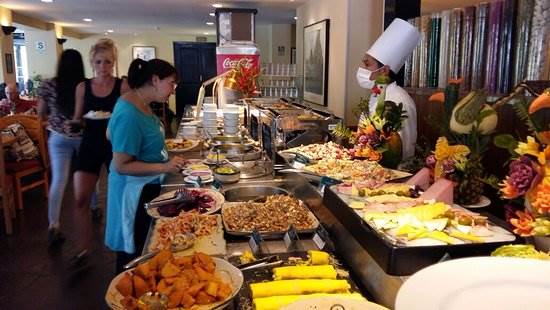 Buffet Restaurants in Aguas Calientes
In Aguas Calientes 30 minutes below Machu Picchu, there is a selection of restaurants that offer buffet lunches. The most obvious is Toto's House which is located right on the river, close to where the shuttle busses terminate. The large restaurant with a capacity to seat 180 people offers an all you can eat buffet to suit just about everyone's needs. Lunch is served from 12 – 4pm and costs US$ 24 per person. For a smaller, but higher quality buffet option, head to the El Mapi Hotel located half way up Avenida Pachacutec. Advanced booking is advised as the restaurant (although medium sized) does fill up. The price is reasonable at US$ 17 per person.