I was really nervous before I started my Inca Trail hike. To be honest, I was envisioning more of a death march than a hike. I had nightmares of the porters having to carry me off the trail as I was a trembling, embarrassed wreck!
But, my experience turned out to be amazing. We wove our way through spectacular scenery that included babbling brooks, rushing waterfalls, and majestic glaciers. It really was magical.
For some people, though, it looked like the hike, or at least aspects of it, more closely resembled my nightmares. Here are a few tips on what you can do to survive the Inca Trail and even enjoy it.
1) Know what you are getting into. I met a hiker on the way up to Dead Woman's Pass who clearly didn't realize what she had signed up for. She was struggling to breathe, and she was extremely mad at her travel companions for talking her into this hike from hell.
2) Train for it. The Inca Trail would be a tough hike even if it were at sea level. The fact that it is at altitude adds to the challenge. Naturally, marathon runners seemed to have the easiest time of it. Other training methods that worked were field hockey, a daily 6-mile walk, Zumba®, and hiking with a team.
3) Break in your hiking boots. Two of the women in our group suffered terribly from blisters all over their feet. By the last day, they were ready to hike in flip-flops. Alas, this wasn't feasible given the nature of the trail.
4) Bring the right equipment. It's usually warm during the day, but it can be freezing at night. We woke up one morning to find ice covering our tents. A super warm sleeping bag, jacket, hat, and gloves can make the difference between shivering miserably and getting a good night's rest. I also packed a hot water bottle that I used every night.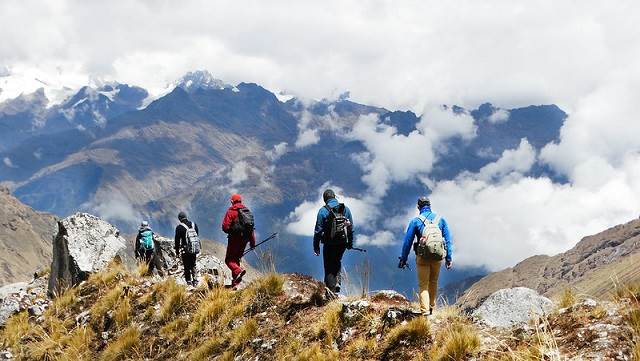 5) Don't be a cheapskate. It's worth it to pay the porters to carry your backpack, sleeping mat, and sleeping bag. The people I saw that tried to save money by carrying everything themselves weren't having any fun. The same applies to selecting a trekking company. One of the women in our group met some hikers who complained that they were starving. Their trekking company hadn't packed enough food. It's better to select a company based on reputation rather than price.
6) Slow down. Hiking at altitude is different than hiking at sea level. It's more like a stroll through the mountains rather than a hike. If you rush, you increase your risk of getting altitude sickness. This can manifest itself as vomiting and diarrhea, both of which are especially difficult to deal with when you are hiking.
7) Have fun. The two women in our group who had the blisters were poster children for having fun. They smiled and laughed through everything even though I am sure they were in terrible pain. The Inca Trail, after all, is an adventure. Adventures aren't always comfortable. For most people, hiking the Inca Trail is a once-in-a-lifetime experience. So, why not make the effort to enjoy it as much as possible? Plus, when you arrive at Machu Picchu, it will all seem worth it!
Things to Do After the Inca Trail
If you've just completed the Inca Trail, you are probably hungry, tired, dirty, and sore.
Here are seven ideas on what to do once your Inca Trail hike is over.
1) Check into a luxury hotel. After three nights of camping, you deserve a little comfort. So, check into a luxury hotel, take a hot shower, and relax. The three best-known luxury hotels are Machu Picchu Sanctuary Lodge, Sumaq Machu Picchu Hotel, and Inkaterra Machu Picchu Pueblo Hotel. It can be difficult to get a reservation and the price can be steep, though. Two other somewhat more moderately priced hotels are El MaPi Hotel and Hatun Inti.
2) Get a good meal. Finding a good meal in Aguas Calientes, the small town that has sprung up at the foot of Machu Picchu, can be difficult. Much of the food is tasteless and greasy. However, amid this dismal culinary landscape, Indio Feliz is a gem. They serve fresh-cooked, delicious meals. I always make it a point to dine here when I visit Machu Picchu. Get there early, though, as they tend to fill up fast.
3) Soak in the hot spring. On the edge of town, you'll find the thermal baths for which the town Aguas Calientes (literally, hot water) was named. Pack your swimsuit and rent a towel at one of the shops along the way. Then, kick back and let the hot water soothe your aching body.
4) Book an extra day at Machu Picchu. People who hike the 4-day Inca Trail, tour Machu Picchu immediately after they finish the hike. It's hard to enjoy the splendor of Machu Picchu when you are tired and your feet hurt. So, book an extra day so that you can enjoy this once-in-a-lifetime experience when you are fresh.
5) Visit the Machu Picchu Museum. The museum houses an interesting collection of artifacts that have been found at Machu Picchu. There is also a multimedia display that explains the significance of Machu Picchu.
6) Shop for souvenirs. You must pass through the local market on your way to the station where you catch the train back to Cusco. It is worth it to take time to wander through the maze-like passages and sift through the merchandise displayed at the various stalls. If you are looking for a more upscale experience, the streets of Aguas Calientes are lined with shops that sell fine art and jewelry. The gift shop at Inkaterra is also worth a look.
7) Get a hot chocolate. When I finished the Inca Trail, the first thing I did was to get a hot chocolate and a chicken empanada at the snack bar at Machu Picchu. It was the perfect snack to fortify me after 4 days of hiking.