I'm like a bear. In the winter, I go into hibernation mode, packing on the pounds and retreating to the warmth and comfort of my bed. Then, when the temperatures rise and the sun comes out, I can't seem to get enough of the rays, often waking up early just to get the most out of the day.
For me, this winter has been brutal; not because it has been especially cold, but because I haven't seen much sunlight for nearly nine months, since my move from the Northern Hemisphere to the Southern Hemisphere. I left Los Angeles in the middle of "June Gloom" after an unusually long and dreary winter and spring, then spent three weeks in Florida where it proceeded to rain every single day. Then I moved to Lima where the clouds seemed to be permanent fixtures in the sky.
Needless to say, I was fed up with dark days; so on a recent Saturday, I decided to take a day-trip to San Jeronimo de Surco, a mountainous town 50 miles east of Lima. At this time of year, San Jeronimo offers warmer temperatures, blue skies and lots of sunshine, not to mention some great hiking and beautiful vistas.
San Jeronimo de Surco
At the foot of the mountain sits a small village, where hikers can step into a bodega to stock up on water and snacks and get directions or tips if they need them. Attached to the bodega, is a restaurant serving up traditional Peruvian food. The owner usually cooks one dish per day, so this definitely isn't a place for the picky. But for those looking for a hot meal and a place to acclimate (San Jeronimo is 6,600 feet above sea level), the restaurant will do. This is also the last stop for 'modern' bathrooms. There are a few stalls along the trail, but keep in mind, they are nothing more than holes in the ground (on the bright side, they do offer shoe grips for safety and stall doors for privacy).
There are a two routes from the town for trekking, each offering entirely different experiences. The most popular trail is Huanano, due to its relative ease. That said, some areas are steep, rocky and slippery, so be sure to take care and time to climb safely. At the end of the 45-minute to one-hour hike is a 100-foot-high waterfall. The splash of the crystal-clear water, scent of blossoming flowers and expansive landscape provides the perfect backdrop for a picturesque picnic. The rocky base of the waterfall is a good spot to sprawl out, as is the gazebo overlooking the falls. Because I was short on time, this is the route I took.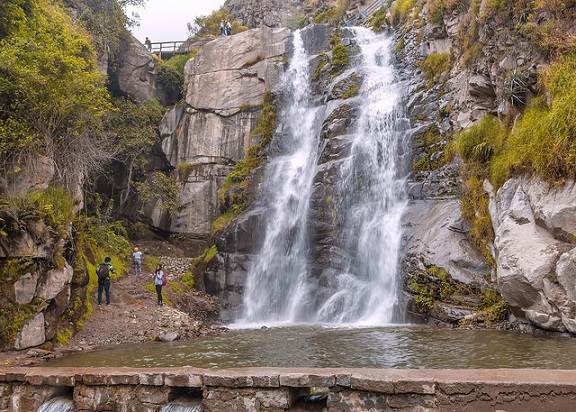 However, for the adventurous at heart (and in-shape in body), is Pala Kala (8,600 feet), a rockier, steeper trail that one-way will take three to four hours to conquer. At the end is yet another, completely breathtaking waterfall, along with sweeping views of the surrounding mountains and town below. Some taking on this hike opt to camp here. Trekkers so inclined to make this trail their home for the night should bring warm clothes and blankets as temperatures drastically drop when the sun sets.
How to get there
Private car or taxi/private driver is the fastest mode of transportation, as the road is quite curvy so buses drive slower. Directions from Lima to San Jeronimo de Surco can be found here.
An option for those wanting to go in a group, is to travel with a private tour company. There are endless companies operating out of Lima that offer day and overnight trips. They vary in price and experience, so be sure to do your research.
One final way is slightly less traditional. I ventured to San Jeronimo with a local running/hiking group called Lima Hash Harriers. Their slogan is "A drinking club with a running problem," though every trip they offer has a walking option. The group sets out on day trips several times a month and provides an opportunity to not only see Peru, but also meet outdoor enthusiasts and adventurers.
What to pack
Sturdy hiking or tennis shoes
Hiking poles or a walking stick
Bug spray
Sunscreen
Toilet paper (just in case)
A sack lunch for a picnic
Trail mix or granola bars
Plenty of water
A first aid kit and flashlight (to play it safe)
Binoculars
Camera