When I travel in my native U.S.A., I know exactly what to do to get from point A (usually the airport) to point B (usually my hotel). I always have a friend or family member pick me up, rent a car or take a cab. Little preparation needs to be made prior to my trip because the process is straightforward in the states. Plus, even if it isn't, everyone speaks my language, so I can easily ask for help should I need it.
Traveling abroad, however, is a different story. It always gives me a bit of anxiety. Will there be cabs waiting for me? How will I know which one to take? How do I give the driver directions? How do I make sure they charge me the right amount?
When you land in Lima for your Peruvian adventure, you may have similar concerns. While the process is likely different from what you are used to, it is by no means difficult. There are many options for how to get from the airport in Callao to your accommodations in Lima proper. To arrive safe and sound, I encourage you to consider using these taxi tips:
1. Pre-Arrival Transfer Service
You can arrange a transfer before you even begin your trip. One way to do this is to arrange a service through your tour provider. If you are going the DIY route, ask your hotel about their transfer service. It may cost a bit more, but you can rest assured that someone will be at the airport especially for you before your flight even lands.
2. In-Airport Authorized Taxi Service
Another option is to use one of the three official taxi services registered through the airport.
Taxi CMV (Taxi Remisse Ejecutivo)
Taxi Mitsu Remisse
Taxi Green
I usually take Taxi Green, though the others are just as good. The vehicles they use are new, clean and comfortable, and they all use flat-rate fares (metered taxis are non-existent in Peru).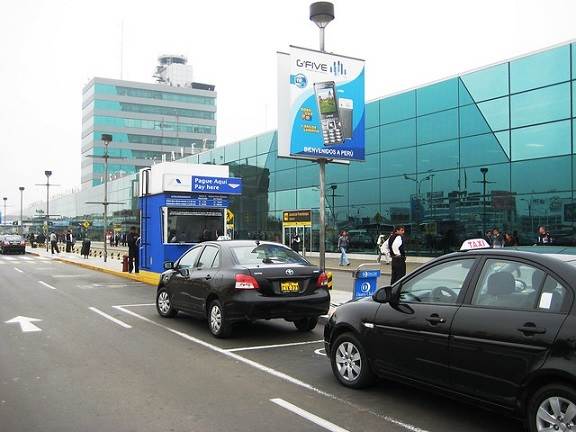 Expect to pay around S/.50 (US$17) for a ride to Miraflores or San Isidro and S/.55 (US$18) to Barranco. If you need a van (either because you have more than three passengers or because of oversized luggage), rates are about S/.20 (US$7) higher.
On-Demand Cab Shuttle
A final option is to take Easy Taxi, Satelital or UBER. All of these services rely on international (or at least Peru) phone or data service. Download the mobile application or jot down the telephone number ahead of time and once you are outside of customs, call or order a taxi online. A one-way trip from the airport to San Isidro or Miraflores will cost you between S/.45 (US$15) and S/.50 (US$17).
Peru Pro Tip: Lean How to Stay Connected in Peru with this handy cell-phone guide.
More Tips for a Smooth Taxi Transfer
Plan out how you will get to your hotel prior to leaving for Lima, Peru.
Have Peruvian soles in hand (don't fret if you don't – most taxis will accept U.S. Dollars, Euros or Pounds).
Write down the name of your hotel, its address and the phone number so your driver can find it.
If you can, print out a map with your final destination clearly marked. This will be helpful if you are staying off the beaten path or on a lesesr-known street.
Keep valuables out of sight by putting them in the trunk of the car or on the floor in front of you.
Try to take in the sights and sounds of Peru, but also remain alert and aware of your surroundings.
Tipping your driver is not mandatory, however, if you are feeling especially generous a S/.5 propina will be welcomed.
There will be cab drivers outside of the airport vying for your fare. They may even offer you a ride for S/.10-20 less than the official cabs. Remember though that the uncertainty of these drivers will save you less than $10. Simply put, taking a ride with any Joe-Schmo who says he's a taxi driver simply isn't worth the risk.