This may come across as a bit of a surprise, but I am not a camping kind of gal. While the idea of sleeping in a tent beneath the stars intrigues me, the idea of sleeping in a tent beneath the stars also terrifies me. You see, even though I'm an adventurer at heart – I like to surf and white water raft and mountain climb as much as the next adrenaline seeker – I much prefer to come home to running water, flushing toilets, and a plush mattress draped in luxurious linens when the adventure is over.
That's why when I heard about glamping in Máncora, a beach town on Peru's northern coast, I jumped at the opportunity.
Glamour + Camping
Glamping, a fusion of glamour and camping, is a way to experience the wonders of nature and the outdoors without having to sacrifice the comforts most of us are used to. While there are varying degrees of glamping, accommodations almost always include rustic surroundings with touches of modernity and extravagance. And while you can stay in everything from a tent to a tree house, there are no sleeping bags to roll out, no fires to kindle and no looking for a tree when you need to go to the bathroom.
Vichayito Máncora: Peru's Premier Glamping Experience
After spending the day surfing Máncora's legendary waves, all I wanted was a hot shower and a hearty dinner. When I found out I'd be sleeping in a tent later that night, excitement turned to concern. I am so not a camper.
After arriving at Vichayito Bungalows and Carpas, concern quickly turned back into to pure excitement. After walking through the chic lobby, the sparkling pool lined with lounge chairs and a full service bar greeted me. As I meandered down the path to my room, I took in the stunning views. Towering palm trees and bright flowers dotted the landscape. The ocean was just steps away. Already I could tell that this would be like no other camping experience.
That thought was confirmed with the arrival to my room. Sure it was a tent, and sure there was a giant zipper instead of a front door, but what awaited me inside was a collection of wonderfully modern amenities. (You can opt for a tent or a bungalow. Totally go for the tent!)
My eyes were first drawn to the king size bed piled high with pillows. Facing the bed was a tall dresser and atop it an LCD TV with premium channels (I normally don't watch television while on vacation, but there was breaking news happening so it was nice to be able to watch a little CNN). In the corner sat a mini-fridge and above that an air conditioner (I don't even have A/C in my apartment in Lima!). I wandered into the attached bathroom and found not just indoor plumbing, but indoor plumbing with style. The toilet had its own privacy nook, meanwhile a beautifully painted sink and massive shower shared the adjacent space.
Just outside my front door – er, front zipper flap – was my own private patio adorned with a table and chairs, and a hammock hanging in the corner.
Needless to say, I was a happy camper.
What to Expect
Vichayito is akin to most four-star hotels I've stayed in. The beds (choose one king or two queens) are firm, yet you can sink into them and the linens are soft. The showers are piping hot with good water pressure. The room is equipped with a safe, closet, dresser with drawers, TV, blow dryer, telephone, small refrigerator and air conditioner. While there is no in-room Wi-Fi, there are computers in the lobby. And while you are sleeping in a tent, it is safeguarded with a lock and a key that you can secure from both the inside and outside.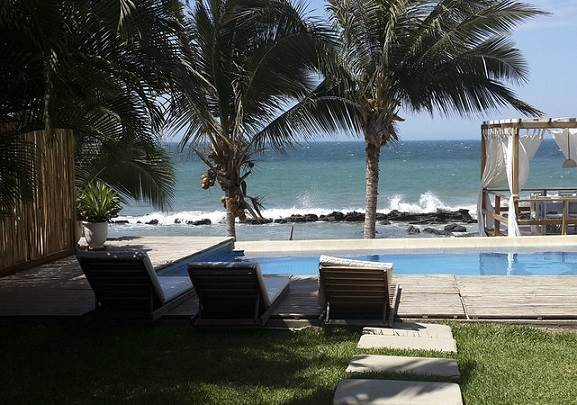 The soft-shell tents bring the rustic surrounding into the room – the waves crashing against the shore to lull you to sleep, meanwhile songbirds awaken you their morning melody. This, however, also means that your neighbors can hear everything you do inside your tent and vice versa.
Daily breakfast is part of the daily rate. It includes a variety of fresh juices, baked breads and cereals. The coffee is rich and tasty, and tea is also available. A nice spread of sliced pineapple, strawberries, papaya, mango and the like fill bowls next to hot plates like scrambled eggs, sautéed meats and platanos maduros (fried sweet plantains). Cheese, nuts and yogurt are also available. While the breakfast is yummy, it is the standard desayuno for Peru. If you are spending a lot of time in this country I can see the same ol', same ol' breakfast of fruit, bread, eggs and meat getting tiresome.
Beyond breakfast there is a full-service bar and restaurant. Vichayito is not an all-inclusive, so ordering items from the bar and restaurant come at an extra charge (check out the bar menu with pricing and the restaurant menu with pricing. Máncora is hot, so sipping an ice-cold chilcano or limonada by the pool completes the tropical beach experience.
Finally, Vichayito is right on the beach. This makes for a stellar experience because you can take a stroll or go for a swim anytime you want. There is a lot of freedom in this. That said, the resort is about 20-minutes by moto-taxi from Máncora's small downtown. This can make finding activities or food beyond what's on-site a bit difficult. Consider leaving the resort for a cocktail or meal at another nearby locale – many hotels and resorts neighbor Vichayito.
Get the Most Out of Máncora in 11-Easy Steps
Head to nearby Los Órganos Beach for a change of scenery and a nice lunch. If you're feeling adventurous, visit Buscando la Ola, a surf shack situated on the beach's butter-soft sands. Luis "Rocky" Castro will give you a surf lesson (and even teach you how to stand on your head while atop a surf board).
Peru Pro Tip: Read about how I tamed the waves in Máncora with a totally awesome surf lesson.
While at Los Órganos, go swimming. The water here is surprisingly temperate (for Pacific Ocean standards), thanks to the warm Niño Current and the cold Humboldt Current converging to create ocean waters averaging 75°F (24°C). In some spots you can even feel the cold and warm currents coming together.
Enjoy a manicure or massage treatment at K'oral, Vichayito's on-site spa
Take a morning stroll on the beach just in front of Vichayito and watch the fisherman on the horizon reeling in the catch of the day.
Watch the sun set over the ocean while rocking in your private hammock.
Take in the natural beauty. Sea lions, pelicans, blue-footed boobies, whales, dolphins and more call Máncora home.
At lunch-time, take a ceviche-making lesson with Vichayito's head chef. Then enjoy pre-dinner cocktails with a private pisco sour-making session.
Go whale watching!
Take a dip in the pool. Máncora is hot year round, but it especially heats up in the summer. The pool offers respite from the heat.
Hang with the locals by heading to downtown Máncora. While there you can check out the eateries serving up some of the best seafood this side of the equator and go bar hopping. Stop in a market or two to see some of the fresh-caught fish (the variety truly is out of this world) and try the locally-grown tropical fruits.
Enjoy a little R&R inside your room; this is glamping at its finest, why not enjoy the amenities?
LATAN Airlines offers multiple daily non-stop flights from Lima, Peru to both Tumbes and Piura. From there, transfer to Máncora by private taxi or bus.