If a picture is worth a thousand words, the photos travelers take on their adventures through Peru are enough to fill the pages of many a novel. While we will undoubtedly remember their four-day trek to Machu Picchu, over time the details – like how the scenery looked under the cloudless, bright blue sky – can be forgotten. Thankfully photos take us back to those moments in time that might otherwise be lost.
That's why I recently sat with wildlife photographer Jeff Cremer of Rainforest Expeditions. He and his team not only take curious travelers to the Amazon, they also provide high-end equipment and training to travelers eager to learn how to snap shots like a pro. After all, pictures are one of the best souvenirs to bring home with you – why not have the best ones possible?
What are some of the basic tips to make sure people are getting beautiful shots?
What makes a regular picture stand out is one that tells a story or shows something in a new way or evokes an emotion.
Some examples of that are:
Lots of people have seen a butterfly but using a macro lens can show beautiful wing scales that cover butterflies or moths.
Always make sure the eyes are in focus.
Try to have your subject in front of a simple background.
Don't be afraid to get low or high. People are used to seeing everything from a standing height, but if you get down low and point the camera up or take the photo from a very high vantage point it makes for a more interesting picture.
For wildlife photography I always recommend trying to get to the same level as the animal when taking the picture.
Get close to your subject. Even when you think that you are close enough, get closer.
And as with everything, practice is the key to getting better. Take a look at the work of famous photographers whose work you enjoy and figure out what you like about their photos. Duplicate it with your own twist. Then, spend as much time in the field as you can taking pictures.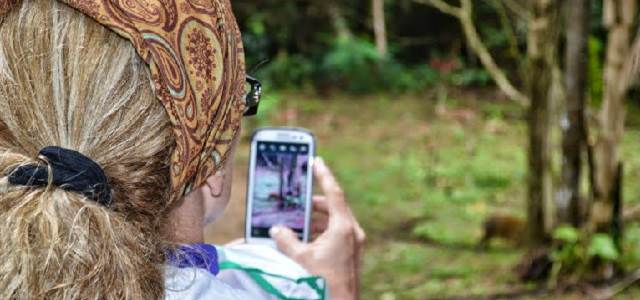 Aside from taking lots of photos and having a critical eye, how can people get better at shooting?
I know tons of photographers who taught themselves to take photos. There are lots of great books out there and good websites as well. I recommend Lynda.com to learn about photography and Photoshop.
Attending a photo workshop is another good way to learn. Workshops give you the chance to be in the field with an instructor and other photographers. You can get a lot of experience in a weeklong course.  I give a workshop in the Peruvian Amazon where people can come out and use pro equipment to take amazing shots of all the fantastic wildlife without having to make a huge investment in equipment.  I've been a photographer for ten years and love to teach. It's a great opportunity to combine nature, knowledge, travel and hanging out with other photographers.
What are some things you keep your eye out for in Lima, the jungle, and Machu Picchu to make your pictures stand out?
Lima – Lima is much more than Miraflores and the Plaza de Armas. I think that it's cool to take pictures of people selling food and drinks on the street in Lima. I also like hanging out in the local markets and photographing all of the exotic fruits that they sell there.
The Amazon – The jungle has life on so many levels that it's hard to say what to look for. I think that owl butterflies make great photographs if you see one. Leaf cutter ants are also fun to photograph. I have some pictures of butterflies drinking turtle tears. It's funny to see the turtles head completely covered with colorful butterflies trying to get a drink. Additionally, the jungle floor can be muddy at times so it's always good to bring a piece of plastic to sit or kneel on when you have to get down low to get shots of leaf cutter ants or frogs. And this is a must – Leave your camera on! It doesn't use very much battery leaving your camera on and you don't want to miss that awesome opportunity of a jaguar all because your camera was booting up.
Cusco – There is a cool place near Cusco called the "Maras Salineras." The Maras are ancient evaporative salt pools used since Inca times to collect salt. There is a whole mountainside covered with the small pools that is great to photograph. You can also walk around the salt pools and watch the people working and collecting the salt.
There are hundreds of cameras out there and even more accessories. It can be daunting. What are the must-haves for travelers coming to Peru?
It's easier to talk about what you don't need than what you do need.
For example, the best zoom is actually your feet. You don't have to have a fancy super zoom lens on your camera. Just take a few steps closer and take the picture.
That being said, for an amateur photographer who wants to buy a lens I recommend getting a good all-around lens to start. I used a Tamron 18-250mm lens for years and got great shots. Remember that cameras go obsolete but lenses don't.
Also, the best camera is the one that you have with you. To a certain extent, it doesn't matter if you have an iPhone camera or a cheap point and shoot. If you know how to use it, are able to find good light and interesting subjects and angles, you will get good pictures.
What many people don't know is that many cameras and lenses are weather sealed (be sure to check the manufacturers website) and have no problem dealing with a little rain. You don't have to spend a ton of money on weathering them. That said, a plastic bag will work wonders in protecting your electronics. I have a Canon 7D and it has been through rain, mud and even been attacked by leaf cutter ants and it still works fine.
Finally, one it's always good to carry around extra batteries and memory cards just in case.
How do you capture the beauty of Machu Picchu in a photo?
Machu Picchu is an awesome place. I recommend that people tackle a subject like this by acting like a photojournalist. Take the overview shot that everyone sees but then go in and take photos of the details.  For example, one of the interesting things about Machu Picchu is that the rocks are stacked so perfectly that there is very little gap between them.  This makes for a good close-up shot that tells a story.