On my last trip to Peru, the line snaking to the LAN counter to check in for my flight seemed endless. I found myself eavesdropping on my fellow passengers' conversations to help pass the time.
Two couples were in line ahead of me. They had both come to Peru, guidebook in hand, looking for a cheap adventure. From what I caught of the conversation, it seemed they had indeed found adventure—just not the sort they had imagined.
It seemed their trip had mostly consisted of run-down hotel rooms and disappointing food. They also wondered aloud why all the fuss about Peru as a culturally rich destination. Both couples seemed singularly unimpressed with what Peru had to offer, although they were pleased with the bargains they had found.
I honestly felt sorry for them. This was my eighth trip to Peru. And, each time I thoroughly enjoyed myself as I explored Inca ruins, tasted gourmet cooking, hiked through mountain communities, and petted the ever-present llamas.
Listening to these two couples complain made me wonder if the difference between their experience and mine had simply been the difference between striking out on your own and taking a guided tour. Each time I've been to Peru, it's been on a guided tour or with Llama Expeditions' team of professional guides.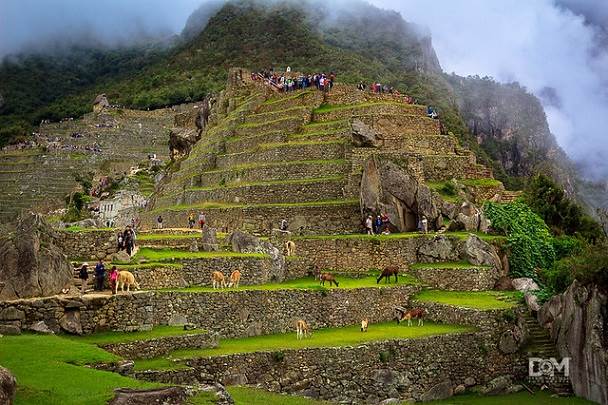 I think a small group tour is the way to travel in Peru.
1) A tour can eliminate the risk of downtrodden hotel rooms and unsavory restaurants. I personally stay in the hotels and eat in the restaurants before I send our guests there.
2)    A tour can give you access that can be difficult to arrange as an independent traveler. For example, we attend a ceviche lesson at a popular local restaurant in Lima, dine with a family in Cusco, and visit a remote weaving community.
3) A tour can help you understand what you are seeing and why it is significant. Many sites in Peru require an explanation to truly appreciate them. The few signs that exist are often written in Spanish. The tour guides in Peru have years of training. Their explanations and stories can greatly enrich your experience.
4) A tour can help you make the most of your limited vacation time. I personally walk through each of our tour itineraries to cherry-pick the sites you'll see and the activities you'll participate in. I eliminate anything that seems boring or irrelevant.
5) A tour can allow you a natural opportunity to interact with the locals. Getting to know your guide, driver, porter, and cook can allow you to glimpse what it's really like to live in Peru.
In addition, on Llama Expeditions' tours, you also have the chance to help the people of Peru. You can visit projects and give gifts of warm clothing, healthy food, and school supplies. The experience is incredibly moving.
As I stood in line at the ticket counter, I found myself asking, "What is the value of a vacation that you don't enjoy?" In the case of the two couples, I suspect that their cheap vacation to Peru was more than they could afford.