Peru is a hiker's paradise with many options to choose from. The three most popular are the Inca Trail, Salkantay trek, and the Lares trek. I've done them all. Below is my advice to help you choose which hike is right for you.
Inca Trail. The Inca Trail is arguably the most well known Peru hike and comes with well-deserved bragging rights. This 26-mile trail snakes up and down two nearly 14,000-foot mountains and through the world's highest cloud forest on its way to Machu Picchu. You are treated to breathtaking views, in some cases quite literally, as you gasp to catch your breath after a stretch of uphill hiking.
You also explore abandoned ruins that hint at what life must have been like during the time of the Inca.
The thing that really stands out for me about the Inca Trail, though, is the camaraderie. There's this sense of "we're all in this together" that makes for some incredible bonding by the time you reach Machu Picchu. I am still in touch with many of the people I hiked the Inca Trail with and they see their pictures occasionally grace my blog posts.
That said; you must be fit to attempt the Inca Trail. If not, you'll be forced to turn around before you summit Dead Woman's pass and then make your way by train to meet your group at Machu Picchu a few days later.
Salkantay Trek. On the Salkantay trek you summit the majestic Salkantay pass and then hike down into the fringes of the Amazon jungle. I am not going to lie. The trek up the seven switchbacks on the way to the summit is brutal. My heart has never beat so hard. But, once you reach the summit, the trail trends downhill. The scenery is spectacular. And, if you are lucky, you might even spot condors circling overhead.
Luxury lodges dot the Salktantay Trail. So, if camping is not your thing, you can do this hike and still get a hot shower and warm bed at the end of the day.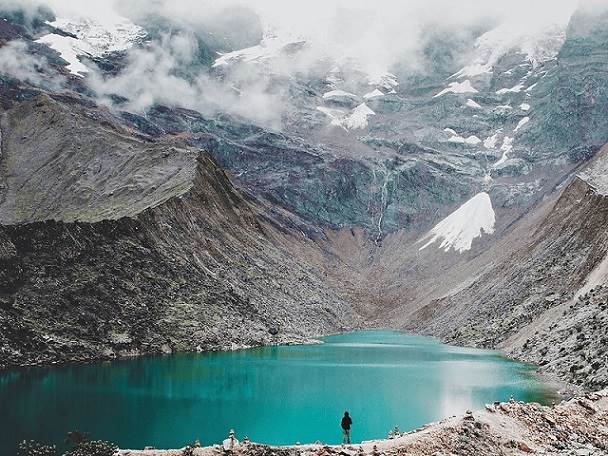 The Salkantay Trail ends short of Machu Picchu. So, you need to hop on the train for a 30-minute ride. You can also do this trek on horseback.
Lares Trek. In many ways, this is my favorite trek. It is shorter and less demanding than the other two. And, you hike through local communities so you get to see how people really live. I especially enjoyed handing out bread and colored pens to the kids hiking 2 to 3 hours on their way home from school. This hike can also be done with llamas as pack animal companions.The Lares hike ends short of Machu Picchu. So, you'll need to catch the train from the quaint pueblo of Ollantaytambo to reach the mysterious citadel.