During the Inca Empire, the Inti Raymi festival was one of the most important ceremonies celebrated in Cusco and one of the unhappiest for llamas. Llamas were sacrificed to ensure a good crop. According to legend, priests could predict the number of good harvests by the number of times a llama's heart beat after it was removed from its body.
Thankfully, this festival that honors the sun god (Inti) is no longer so gory. Llamas can breathe a sigh of relief as their sacrifice is now simulated.
This year Inti Raymi takes place on June 24, 2014 in time to celebrate the winter solstice. Actors clad in traditional Inca ceremonial robes and costumes re-enact traditions that date back 500 years.
The festival starts at the temple of Qoricancha. The Inca and several priests make speeches in Quechua from atop the towers of the temple while the crowd swoons in adoration. When I went, there were several older women declaring their love for the handsome, well-built Inca from the streets below. It reminded me little of a rock concert.
After the speeches, the Inca and his princess are carried on golden chariots through the streets of Cusco to the archeological site of Sacsayhuaman. A procession of priests and other characters dressed in colorful costumes follow.There are several options to get a great view and photos at Inti Raymi.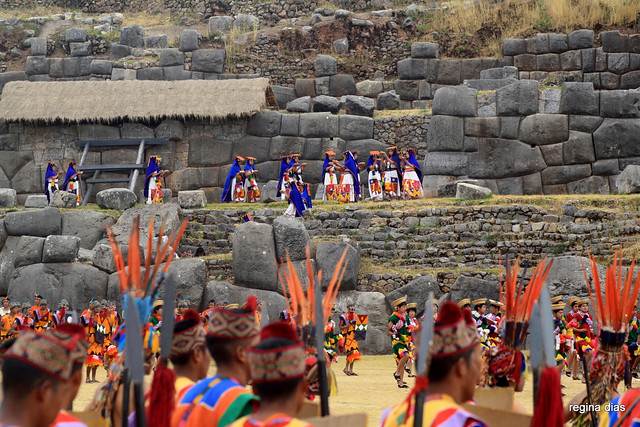 1) Arrive early at Qoricancha. I walked over at 9 a.m. and snagged a prime spot. But, I was lucky. Many people arrived before 8 a.m.
2) Try to get a spot on a balcony overlooking Cusco's main square. The South American Explorer's Club in Cusco reserved a spot on just such a balcony for members the year I attended.
3) Get a ticket to the main event at Sacsayhuaman. You can see the procession and the ceremonial re-enactment of the llama sacrifice from a relatively comfortable and close location.
4) Hang out with the locals on the high Inca walls in Sacsayhuaman. Just don't get too close to the edge. People get so engrossed with the show that they slowly inch forward. If you are sitting at the edge of the wall, it can get pretty scary.
If you are planning a trip to Peru this summer and interested in attending Inti Raymi, now is the time to reserve your trip. Hotels in Cusco book up quickly and tickets to the show in Sasayhuaman are limited.