I had dinner with a friend a few weeks ago. She mentioned that she and her husband are both interested in seeing Machu Picchu one day. They were worried that they weren't fit enough to hike the Inca Trail though. I told her that she could take the train to Machu Picchu Pueblo (also known as Aguas Calientes) and the bus from there to Machu Picchu.
Departure Cities
Most of the trains to Machu Picchu Pueblo depart from either Cusco or Ollantaytambo. There are also a few routes available from Urubamba, but they have a very limited schedule.
If you are considering a train from Cusco, I offer a word of caution—the train ride is incredibly slow. It's great if you're happy to lose several hours and just enjoy a long, leisurely ride. If you'd rather get to your destination faster, you're probably better off taking a car or van to Ollantaytambo and hopping on a train from there.
Train Options
The two main train companies are Inca Rail and PeruRail. Inca Rail only runs from Ollantaytambo and has just one type of train. It features several different passenger classes, from the luxurious Presidential class to the standard tourist option. Inca Rail ticket prices range from $40 to $85 per adult passenger, based on the class of travel you choose.
PeruRail runs from both Cusco and Ollantaytambo. They have three types of trains that you can choose from: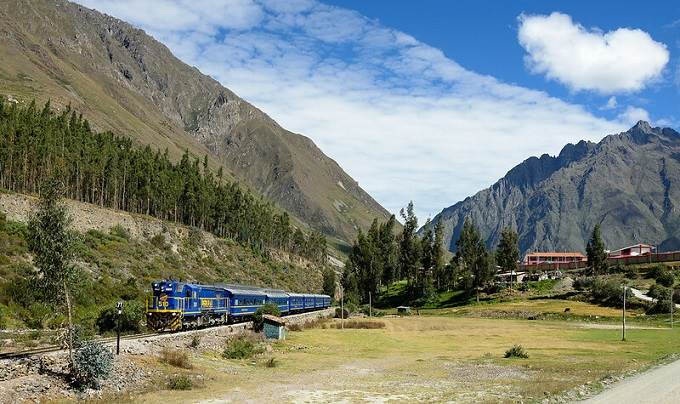 1) Orient Express—This train is also called the Hiram Bingham train. It is a great option if you prefer to travel in ultimate comfort. The Hiram Bingham is a bit pricey, but it features elegantly designed and furnished cars and some excellent food choices. Some of its first-class amenities include welcome aperitifs, a fine wine selection, onboard music and entertainment, a tour guide, and even a gourmet dinner in Machu Picchu Pueblo. People consider the Hiram Bingham to be the most luxurious train in Peru.
2) Vistadome—If you want to experience a little bit of luxury at a more affordable price, the Vistadome is the perfect option. These trains feature fantastic panoramic windows perfect for taking in the spectacular Peruvian scenery along the way, and there are plenty of tasty snacks to enjoy during the journey. The Vistadome also offers an Andean-themed cultural experience. For example, passengers hear traditional music and see a unique alpaca fashion show.
3) Expedition—This train is the most affordable of the three, but it still offers some nice perks for your journey. Panoramic windows, comfortable seating, and several snack choices are available. Unlike the Vistadome, however, there is no onboard entertainment.
Prices on PeruRail range from $30-$60 for Expedition, $75-$120 for Vistadome, and over $300 for the Orient Express.
Some Helpful Train Travel Tips
Whether you've purchased your ticket ahead of time or not, it's a good idea to arrive at the train station at least 30 minutes before your scheduled departure. During your trip, avoid leaving your personal belongings unattended. And, of course, don't forget to keep your camera ready. The panoramic windows offer spectacular views of the rugged surrounding landscape, so you can expect plenty of photo opportunities.
As with most travel, the journey itself is often the destination. So, sit back, relax, and enjoy the train ride to Machu Picchu Pueblo!