Visiting the beautiful country of Peru is a great experience but a short visit can not always provide a clear and true image of Peru. An exceptional way of getting to know Peru and its idiosyncrasies is through its history. The district of Pueblo Libre in western Lima has a remarkable historical significance reflected in its monumental Plaza de Armas (Grand Army Plaza) and displayed in the district's museums.
The Larco Herrera Archaeological Museum is located in Pueblo Libre, near the upscale neighborhood of Miraflores. Founded in 1926, this museum is surrounded by beautiful gardens and harbors the biggest private permanent collection of pre-Columbian art that exists in the world.
The Larco Herrera Museum represents an architectural heritage of national significance. The museum is located in a unique 18th century vice-royal mansion built over a 7th century pre-Columbian pyramid whose structural remains are still apparent today.
You will find over 45,000 archaeological pieces on gold, ceramics and textiles that have been classified by renowned specialists and scholars. The Larco Museum showcases remarkable chronological galleries providing an excellent overview on 3000 years of development of Peruvian pre-Columbian history.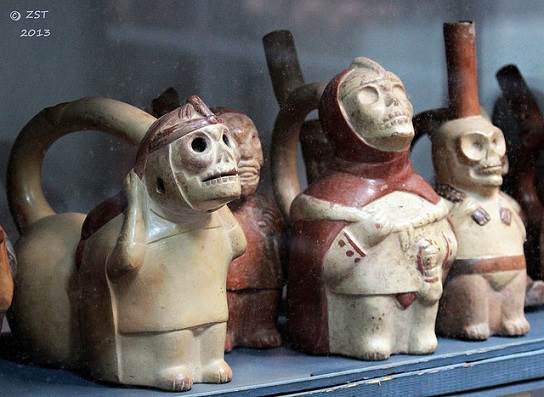 Here you can also find an incomparable collection of "Erotic Huacos" (pre-Hispanic ceramic relics representing animals, persons and objects). The museum holds an exhibition about mummies (embalmed bodies that have been prepared for burial) of the Chavín, Chimú and Inca pre-Columbian civilizations.
The Museum Café is a restaurant located in the terrace and garden of the museum. The Larco Herrera Museum is one of the few museums in the world where visitors have the unique opportunity to enter the storage area and view its 45,000 classified archaeological objects.
Two stores, HStern Jewellers and Kuna by Alpaca 111, have storefronts at the Museum. Alpaca 111 offers ponchos, cardigans, shawls, sweaters and accessories made of the finest vicuna, alpaca, guanaco and llama wool, internationally renowned for its softness, fineness, rarity and color. HStern Jewellers have faithfully reproduced some of the finest pieces of Pre-Columbian Peruvian Art in 18 carat gold, gems and native materials.
The museum is open Monday through Sunday from 9:00 AM to 6:00 PM (daily including holidays).
Admission prices: general admission — S/. 30.00, senior citizens — S/. 25.00 (65 and older), students and children under 15 years old — S/. 15.00.
Address: Av. Bolívar 1515, Pueblo Libre, Lima 21, Perú.