A three-day weekend is on the horizon, signaling the perfect time to organize the house and catch up on errands, or for the adventurous in spirit, to switch up the daily routine in exchange for uncharted territory.
"I love traveling. I love the experience of meeting new people and seeing new places," said Andrea Zuñiga, the communications manager for South American Explorers. "I love talking to other people who are also Peruvian, but so different from we Limeños."
In 1977 SAE began helping scientists, archaeologists and explorers navigate their way through Peru and South America. The non-profit NGO built a labyrinth of information, networks and contacts and began helping backpackers, travelers, expats and nationals discover the continent. Now they advise anyone wanting to learn more about just about any place in South America.
"There's definitely still room for exploring," Zuñiga said. "There are things that may not be new to the world, but they are new to the individual."
That's why the Peruana encourages people to step out of their comfort zones and into the unknown every chance they get. Most travelers will venture through Lima and on to Cuzco and Machu Picchu. But, as Zuñiga said, Peru is a big country and nearly every city will provide a different cultural, culinary and scenery experience.
Below are a few lesser known cities to discover. Each of the trips will take no more than five hours by bus – perfect for a long weekend. If travelers have access to a private vehicle, Zuñiga says it will take less time to get to the desired destination.
Cerro San Cristobal
This is the hillside overlooking Lima, offering great views and a small bodega. Take an 'urbanito' from the Plaza de Armas for S/. 5. On a clear day, visitors can see nearly every district from atop the mountain. Bring a sweater, it can get chilly at the top.
Chosica
Chosica is a nice afternoon escape from the city and takes between one to two hours to reach. Sitting above the fog hugging Lima during the winter, it is popular with Limeños seeking some sun. The central park area boasts green space, as well as restaurants, bars and cafes.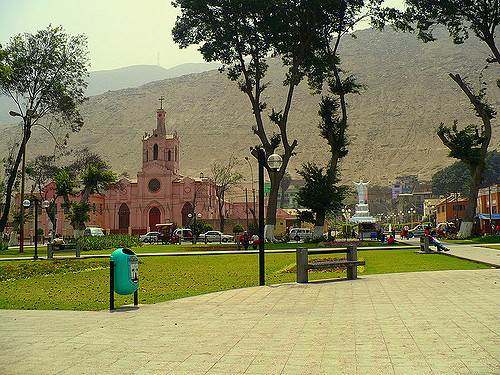 Lunahuaná
This is the most popular place for white-water rating on the Chillón river, where the national championships are held every February. Several places offer rafting and kayaking. Try "Camping San Jeronimo", "Aldea" or "Adventure Perú". Rafting costs about $15 per person for 1-2 hours. The river is at its highest from November to April (levels 4-5) and low from May to October (levels 1-2). Kayaking upriver is excellent, as are the canopy tours. There are numerous accommodations and restaurants. Plan to bus it for about an hour.
Pachacamac
Pachacamac has many ruins to explore. There is a small museum near the reconstruction of the "Temple of the Virgins." Buses take about an hour.
Canta and Obrajillo
Perched on top of a hill overlooking the Chillon river valley, is Canta . Travelers can hike to the pre-Inca ruins of Catamarca. Camping and trekking are possible through the high mountain pass of La Viuda (4,784m). Bring food, water and warm clothing if you are going to stay overnight or hike further into the mountains. Buses take about three hours from Lima. Three kilometers from Canta is the town of Obrajillo, a charming labyrinth of winding streets, overhanging balconies and colonial mansions.
Ica and Huacachina
Ica is a little town, 3-4 hours south of Lima by bus. It is famous for its vineyards and production of Pisco. Huacachina isa a 15-minute taxi ride away — an oasis in the middle of sand dunes and a great place to spend a relaxing weekend, try sandboarding, or do an excursion in a dune buggy through the desert. There is also a national wildlife reserve nearby.
Chincha
Desert hillsides looking out over the sea, located four hours by bus south of Lima. In colonial days, slaves were brought to work on sugar plantations in the valleys. Today Chincha retains the rich African influenced culture including the cajón (drums made from a wooden box) used in typical music of the region. Very spicy meals abound, generally prepared by Afro-peruvian hands.
San Pedro de Casta and Marcahuasi
San Pedro de Casta (3,750m) is the closest town to Marcahuasi, a huge plain at 4100m above sea level. On the plateau, there are many enigmatic rocks formations with the shapes of animals and people, including a frog, turtle, the Indian and the Three Virgins. In San Pedro there are hostels and restaurants located on the main square. Expect a four to five hour bus ride.
Churin
Famous for its spas, forests and cheese, Churin is worth the five to six hour journey from Lima. The road to Churin passes through wonderful rock formations and sub tropical vegetation. There are several hot sulphur springs for relaxing, as well as multiple accommodations as this is a hot spot (literally) for Limeños seeking a getaway.