With over 3,000 traditional dishes and recipes, Peruvian cuisine is quickly becoming a worldwide sensation. Our gastronomy is an exquisite blend of culture and passion, mixing exotic ingredients, ancestral ways of cooking, tradition and love. Because Peru has been a melting pot for immigrants since the Spanish conquest in the 16th century, our cuisine is influenced by many foreign cultures, such as the Chinese, the Arabs, the Spanish and the Africans, reflecting the vibrant identity of this beautifully diverse country. No wonder Peruvians put their heart and soul in every plate! Come join us on a culinary adventure that will take you from delicious food tastings in Lima's finest restaurants, to Pisco and Ceviche tasting classes, to Arequipean and Novo Andean fusion dinners, and traditional markets where you will be taught how to buy your own ingredients for cooking class. Have fun visiting Lima, the Gastronomic Capital of America, and enjoy a delicious stay in Cusco, heart of the Inca Empire. Don't miss this opportunity to get a taste of Peruvian culture!
Upon arriving to Lima`s Airport, reception by a Peruvian Soul representative and transfer to your hotel in Miraflores, where you are free to relax and wander around at your own pace.
OPTIONAL: Depending on the arrival time we have plenty of suggestions for you to enjoy a welcome dinner at any of the various Peruvian Restaurants available in Lima. Peruvian Dinner Shows are also available upon request.
Meals: None
Accommodation: Comfortable Hotel in Lima
Day 2 Lima`s Cuisine and Must See Sights
Lima is considered the Gastronomic Capital of South America and today we`ll get to see why! First we visit a local market where we will be able to taste some local fruits and appreciate the different fish species. Then we drive to Chinatown locally known as "barrio chino" to feel the fusion of the Peruvian and Chinese cultures. We continue to Lima´s historic downtown to observe its main monuments and architecture. We visit a recognized Peruvian chef to taste the exquisite Peruvian Creole dishes. Afterwards we visit another awarded chef who shows us his secrets and gives us a masterly presentation of "Cebiche". Finally, we drive to the bohemian district of Barranco where we visit a private collection of the best Peruvian handicraft. We have time to visit some shops with great handicrafts.
Meals: Breakfast  & Lunch
Accommodation: Comfortable hotel in the Lima
Today`s tour is in private service.
Day 3 Heading towards Arequipa (The White City)
Today, at the coordinated time, we´ll have a short drive to the airport to take our 55 minute flight to the city of Arequipa. If possible, we will try to get seats on the left side of the aircraft as some of the best views of the Andes can be seen from there.  Upon arrival, we will be transferred to our hotel.
Then, in the afternoon, we have a guided tour through the most important points of the city. First, escape to the past wandering through hidden passageways and colorful walls at the Santa Catalina Monastery, one of the most fascinating colonial and religious buildings in Peru. Then, continue to the "Compañia" church, famous because of its incredible baroque style and the colorful San Ignacio dome. Afterwards, we´ll visit Arequipa's beautiful neo classical Cathedral and set off towards the traditional neighborhoods of San Lazaro and Carmen Alto. There we´ll visit the Yahahuara viewpoint, a scenic lookout that offers breathtaking views of the Misti and Chachani Volcanoes.
Meals: Breakfast
Accommodation: Comfortable hotel in Arequipa
Today`s tour is in private service.
Day 4 The Arequipean Cuisine
We start today`s experience visiting the long-established local market of San Camilo in down town Arequipa. Here we will buy all the necessary ingredients to prepare two traditional Arequipean dishes (an entrée and a main dish). Arequipas local cuisine is amongst Peru`s most recognized, with very popular dishes such us "Rocoto Relleno"(stuffed Peruvian Pepper), "Chupe de Camarones"(Shrimp Soup) or  "Adobo"(Marinated Pork). Leaving the market we head to a local family house where we will prepare our dishes "homemade Style". During the preparation we`ll be given instructions on how to prepare each dish and we`ll be able to assist in the cooking itself.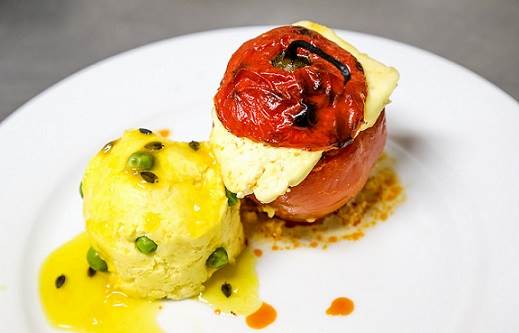 Our private guide will accompany us during the entire activity to ensure we can communicate easily with our local cook and ask any questions if necessary. At the end we`ll enjoy the delicious meal we`ve prepared.
For dessert we`ll visit a traditional "Queso Helado"store. "Queso Helado", which sometimes is wrongly transalated to Ice Cheese, is a typical and very tasty Arequipean dessert (very similar to Ice-cream). At the store we`ll learn how to prepare this tasty sweet which we`ll also be able to taste.
Meals: Breakfast & Lunch
Accommodation: Comfortable hotel in Arequipa
Today`s tour is in private service.
Day 5 Cusco & It`s Surroundings
After an early breakfast we have a short drive to the airport to take flight to the city of Cusco. Upon arriving at Cuzco airport, we will be met by a Peruvian Soul representative who will welcome us and take us on our private transport to our hotel.
Then, at the previously coordinated time, we begin the City Tour of Cusco and its Surroundings.  Enter the Cathedral, originally built on the site of the old temple of Suntur Wasi (House of God). Continue to the church of El Triunfo to admire the choir cloisters, the pulpit and the engravings on the altar and furniture. Then, visit the Church and Convent of Santo Domingo, a Spanish construction belonging to the Dominican Order built upon the foundations of the Inca temple of Koricancha or Temple of the Sun.  Subsequently, one must explore the archaeological monuments that surround Cusco; Sacsayhuamán, a huge Inca fortress overlooking Cusco, Kenko, which is said to have been an ancient Inca worship site, Puca Pucara, an administrative and military center formed by terraces, stairways, passages and turrets, and finally Tambomachay, known as the Inca baths.
Meals: Breakfast
Accommodation: Comfortable hotel in Cusco
Today`s tour is in private service.
Day 6 The Sacred Valley of the Incas
Today, we meet our guide who takes us on a tour through the Sacred Valley of the Incas. The first stop on the route is Awanacancha where we can see all the different camelids of Peruvian Andes.  Then we visit the archaeological complex of Pisac and have free time to wander around the colorful Indian market, where a variety of handicrafts are available.  After this, we drive to Urubamba for a delicious buffet lunch, followed by a guided tour through the giant Ollantaytambo fortress, which was once the scene of one of the most famous battles between the Incas and the invading Spanish conquerors. Overnight in the Sacred Valley.
Meals: Breakfast  & lunch
Accommodation: Comfortable hotel in the Sacred Valley
Today`s tour is in private service.
Day 7 Pachamanca, a Peruvian Delicatessen
This morning, we head to a local market located in Urubamba. Here we`ll immerse into this local commercial place, a real in-depth cultural experience, where we may put in alert our five senses. New smells, colors, textures, sounds and tastes will introduce us to an ancient cuisine concept. From the marketplace, we will continue to our lunch spot near Ollantaytambo, where we`ll meet the cooks who`ll teach us how to elaborate a traditional Pachamanca. "Pachamanca" meaning in Quechua "Earth Pot" is a traditional cooking technique based on the baking, with the aid of hot stones (the earthen oven is known as a huatia), of lamb, mutton, pork, chicken or guinea pig, marinated in spices. Other Andean produce, such as potato, green lima beans or "habas", sweet potato, and occasionally cassava, as well as ears of corn, tamale and chili, is included in the baking.
After helping to prepare the ingredients and placing them under the ground we will have to wait for a while. During this time we shall enjoy a Mother Earth (or Pachamama) ceremony, in which we thank the "Pachamama"for the food we are about to taste. Then the Pachamanca will be opened and dishes will be served. After lunch, passengers will be transferred back to their hotel.
Meals: Breakfast & Lunch
Accommodation: Comfortable hotel in the Sacred Valley
Today`s tour is in private service.
Day 8 Discovering the lost city of the Incas
Today is the big day! In the early morning, we'll be transfered to Ollantaytambo train station to board the train to Machu Picchu Town. The train journey is a spectacle in itself as we`ll be able to appreciate the changing landscape from green fields and eucalyptus forests to lush jungle always travelling besides the meandering Urubamba River. Upon arriving, we take a 15 minute bus up the steep zigzagging road to Machu Picchu Citadel, located on an impressive mountain setting. Once at the site, we take a private guided tour to explore every corner of the "Lost City of the Incas". Afterwards we have time to wander around Machu Picchu by ourselves walking through temples, palaces and living quarters. In the afternoon we return by train to Cusco.
Meals: Breakfast
Accommodation: Comfortable  Hotel in Cusco
Today`s services are in private
Cusco is one of the most interesting cities in Peru and South America. Today we'll have the entire day to explore the streets and plazas of this UNESCO World Heritage City at our own pace.
OPTIONAL: Peru`s Cacao is amongst the best in the world. If requested, we can add a traditional chocolate making workshop on this day or include an extra evening cooking lesson here in Cusco.
Meals: Breakfast
Accommodation: Comfortable hotel in Cusco.
Today, we'll have some free time to maybe take a last walk around Cusco`s shops and markets and then, at the coordinated time, we`ll head to Cusco`s  airport to board your flight to Lima and connect with your international flight home.
Meals: Breakfast
Accommodation
02 nights in a Comfortable Hotel in Lima
02 nights in a  Comfortable Hotel in Arequipa
03 nights in a Comfortable Hotel in Cusco
02 nights in a Comfortable Hotel in the Sacred Valley
Included Transports
Private Transfers from/to hotels and airports
Tours as stated in program.
Vistadome Train Service from Ollantaytambo to Machu Picchu
Vistadome Train Service from Machu Picchu to Cusco
Meals
Meals as detailed in the program
Guides
Spanish/English speaking guide
INCLUDED:
Domestic  and international flights
Airport taxes
Travel insurance
Meals not described in the program
Tips