Peru is definitively a surfer country.  There is no doubt about that.  Waves that have been exalted all over the word by the major exponents of the sport, places mentioned even in songs by the Beach Boys and champions of the caliber of Sofía Mulanovich confirm the phrase with which I begin this post.
Surfing was brought to Peru by the traveler,  Carlos Dogny,  after a trip to Hawaii where he learned the marvelous art of "running the waves".  The term "Hawaiian board" with which he baptized the sport once it reached Peru, is still used today.  Even though, the Peruvian coasts already possessed an important tradition of proto surf in many coastal cultures like Mochica and Chimu, in the northern part of the country.
During the 20th century, the practice of surfing stopped being the exclusivity of the upper classes and it has become more common to see children learning the sport in the generous waters of the coast.  As a result of this, one also sees a large amount of tournaments and titles that Peruvian surfers win all over the world.   One of the reasons for this success is, without a doubt, the marvelous configuration of the beaches and perfect waves of this famous coastline.
Some of the more important destinations to practice surfing in Peru are:
Lima: The beaches of Lima are full of surfers.  Starting with the ones from the central district of Miraflores, where the first surfing clubs like Waikiki were born, until reaching the southern beaches of the city such as  Punta Hermosa, San Bartolo and Punta Negra, places where the surfers that have brought the most glory and triumph to Peru have come from.
Chicama: Located near the city of the eternal spring, Trujillo, Chicama is a cove of fishermen which is known for its surfing thanks to its magnificent waves, which has made it the seat of many international surfing tournaments throughout the years.
Cerro Azul: South of Lima, before reaching Cañete, we find the small fishing port.  Owner of exceptional surfing waves, these coasts have been praised even by the Beach Boys in the classic Surfin' Safari.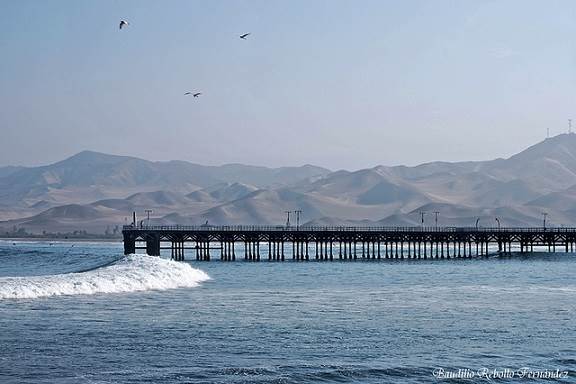 Other destinations of major importance in the Peruvian surfing circuit (be it professional or recreational) are the beaches of  Organos and Mancora, that possess a combination of waves that complement with the precise winds.  We should also not forget that they are important vacation destinations in Piura.   Huanchaco (on the outskirts of the city of eternal spring, Trujillo) and  Pacasmayo in the department of  La Libertad.