Gustavo picked us up at our hotel at 7:15 to take us to the airport. As usual, traffic getting to the airport was awful. It took us an hour and by the time we got there, Jean and Joe were bumped from the flight since it was overbooked. Fortunately, there were 4 more flights to Cusco that morning so they were only a half hour behind us. We met Diane Valenti, our tour organizer, at the airport in Cusco with our guide, Armando. They took us directly to our hotel, the Monasterio.
I was very light headed getting off the plane and immediately felt the effects of the altitude. It was definitely an effort to walk up the jetway with our carryons. At first, I felt like I was gasping for air.
We had taken pain relievers on the airplane to ward off headaches although we still were a bit "headachy" throughout the day. And, while we had obtained prescriptions for Diamox prior to our departure from New York, we chose not to take it and to try to tough it out. That said, if I ever have to go to 11,000 feet directly from sea level, I'll probably take the Diamox because it took at least two days to feel normal again and we had trouble sleeping those first couple of nights.
Our first glimpse of Cusco made quite an impression on me. This charming city is very picturesque with lovely architecture, big plazas with beautiful flower beds and the typical Spanish Colonial architecture with terraces that overhang the building walls. The Monasterio is a beautiful hotel (was once an active monastery) with piped in "chanting" music that plays from time to time throughout the day (quite soothing to the soul) and its own chapel where you can sit and meditate.
At check in, we were led to comfortable sofas and chairs while they took our passports and handled the paperwork. In the meantime, we were served coca tea which is supposed to help with altitude sickness.
Our rooms were small but beautifully appointed with a small balcony with a table and chairs.
As this was our "rest" day, we meandered around the city on our own. We first went to the Pre Columbian Museum – located in the square by our hotel. The sculptures were amazing – so perfect with such a large amount of detail.
We then wandered down a narrow, but steep, alleyway that led to their main plaza – Plaza de Armas. In Inca times, this spot was considered to be the "navel of the Puma." The three "godlike" creatures celebrated by the Incas were the Serpent, Puma and Condor representing the underworld, the world on earth and the afterlife. (Animals play an important role in the mythology of the Incas). There are twenty churches in the town of Cusco of which two beautiful ones are right in the Plaza.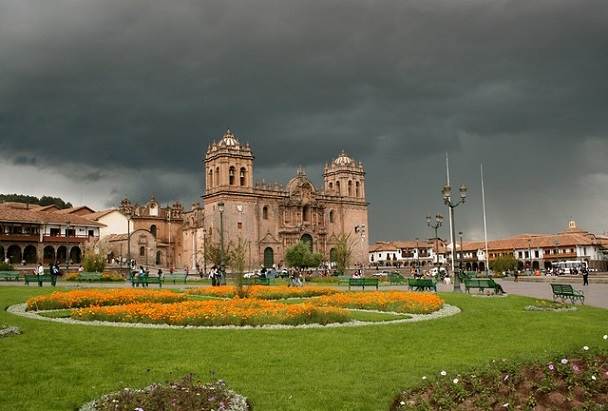 After a lunch in a "terrace" cafe overlooking the plaza, we continued to explore Cusco with a stop at the Chocolate Museum, a visit to the San Blas neighborhood – a bohemian district perched on a series of hills (we huffed and puffed our way there through the thin air) and a brief visit to their "coca" store where we bought coca tea infusions and chocolate made with coca. On the way back to our hotel, we spent all of our coins by passing them out to natives who would pose for pictures.
By dinnertime, we were all pretty tired from dealing with the altitude. So, we went to bed early after a dinner at Incanto – an Italian restaurant just off of the main square.
Unfortunately, we can't recommend Incanto. While they got an "A" for food presentation, my husband's lamb was very salty and the trout we ordered was very dried out. The two people who ordered pasta were happy with their dishes, but still said that they were "average." The one distinguishing feature is the artwork used to decorate the restaurant.
The area around the Plaza de Armas is particularly beautiful at night. So, it's well worth an evening stroll through the plaza, which is often packed with Cusqueños and tourists alike.