One of the reasons our Inka jungle trail was the most entertaining parts of the trip thus far was our amazing guide, Johan. Over the four days of the tour, Johan would dish out surprising information about himself and his several business ventures that kept us very interested in what he had to say. Another reason was the diversity of the group of twelve people that had joined us on this trip, who though originally reserved, would later come to loosen up and make way for some very fun trekking times. Good company really did make for a great Inka jungle trail!
Day One
Without a shadow of a doubt, our first day was the most boring day of the trip – or at least it had been for me. After a two hour bus ride, we reached the starting point of a two hour descent on mountain bikes. Seeing as I still cannot ride a bike, this effectively meant that I was stuck on the bus for the greatest part of the afternoon. We arrived at our accommodation for the night at about five o'clock, at which time a rafting session was available at an extra cost. Bram and I decided against this thinking that this rafting experience would in no probable way match the one we had in Las Cascadas. So after an eight o'clock dinner we called it an early night and hoped for a more exciting second day of the tour.
Day Two
On our second day we began our trek uphill which would later join on to an original Inka trail. As Johan explained, many of these trails covered an area that stretched across the present-day countries of Ecuador, Peru, Bolivia and Chile and had once been used by Inka messengers or chasquis. Parts of these trails still exist to this day and have been used by locals for centuries. Our alternative Inka trail led through forests, run parallel to rivers and was for the most time dominated by steep mountain sides. Even though our second day was our most tiring one, Johan always found ways to make it more entertaining. In the morning, while crossing through agricultural land and being shown one of the area's many coca plantations, Johan demonstrated how the Inkas used a naturally-growing indigenous plant to paint their bodies. In making these demonstrations he had decided to use us as his personal canvasses. One by one he painted all of our faces, turning me into a koala and Bram into what was presumably a little devil.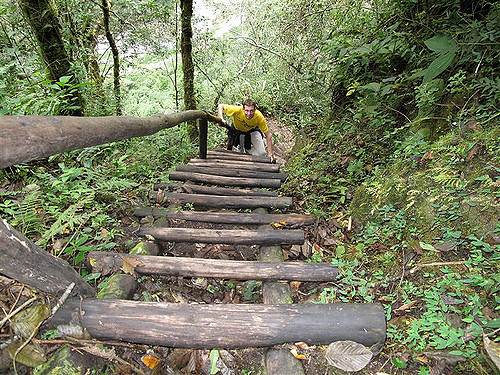 Later in the morning we spent a relaxing hour at the Monkey House where we had the opportunity to play with some of the resident animals. A big surprise was watching a monkey unscrew the cap off the soda bottle he had been handed and hastily gobble down the red liquid, an off-putting display of the monkey's human-like motor skills. What was also fun was dressing up in traditional Quechua costumes and taking some ridiculous looking group photos.
We then continued our trek along the Inka path for another hour, after which we had taken a break at one of the Inka chasquis' outposts. Here, the messenger would wait patiently until he received news which he would then carry along to the next chasqui outpost, a type of communication resembling today's sport of the relay. Johan had also performed a Quechua ceremony which involved chanting in Quechua in a tradition that involved the worship of sacred mountains or 'abus' and which he concluded with the burning of coca leaves.
In the afternoon we continued our trek which luckily mainly consisted of downhill slopes and eventually found ourselves walking parallel to a river. At this point, Johan recommended that we pick up the pace in order to overtake any groups that were ahead of us in attempt to get to the zip line first. The zip line would then carry us across a raging river below to the opposite river bank and to where the hot baths were located, marking the end of the day. An hour and fifteen minutes later we'd already reached the zip line and the short ride gave a fun end to the day. On our arrival there Johan had also proudly informed us that we'd broken the record of fastest ever group to cover the final stretch of the way!
The day ended with a beer and us soaking up in the hot water baths, a well deserved award after a long day's trekking.
Day Three
On the third day of the tour, we decided to opt for one of the alternative activities on offer: zip-lining. Having walked uphill for about an hour, we reached the first zip line situated at 300m off the ground. Bram was the second person to zip down the first line and he looked like he was breezing through it, unlike the rest of us who were still trying to come to grips with what we were about to do. Eventually, I got over my fear and walked up to the zip line, sporting a look of terror on my face which clearly seemed to amuse the security operator. However, after that first shove and when I found myself in mid-air and wheezing down the line I experienced an adrenaline rush which made me forget all of my inhibitions.
In total there were six zip lines which varied in both length and speed, but they all made for an amazing time in reaching the bottom. Bram even managed to record a video on one of his runs down the line. Generally, the morning experience was a really fun one which I would eagerly recommend to anyone who's not afraid of heights!
In the afternoon we continued with a three hour trek along train tracks, making our way towards the village of Aguas Calientes or, as it is also known, Machu Picchu pueblo, our stop for the night. Here we had a hearty dinner and stocked up on food for the following day's trek to Machu Picchu, the most anticipated part of our trip!
Day Four – Reaching the lost city
On the last day of the tour we woke up at four in the morning in order to be one of the first in line to enter the archeological site. From Machu Picchu pueblo this effectively means walking up more than 1200 steps and then waiting in queue for a stamp which will allow you to climb up the nearby Wayne Picchu mountain. However, seeing as we had a very knowledgeable guide, we also had this most valuable tip: while climbing Machu Picchu mountain may be more physically challenging, it also leads the way to an incredible bird's eye view of Machu Picchu and of the surrounding mountain ranges. Because of this invaluable piece of information, we all decided to skip the line for Wayne Picchu and stood right at the front of the entrance to the archeological site.
From that moment onward we had become the most hated group of people on the site, seeing as everybody had misread the situation and believed that we had somehow cheated our way into standing at the front. While we waited until the site opened for admissions at 6am, several angry faces kept facing in our direction and I was convinced that they were all visualizing what it would be like to head punch us, one by one. When the gates finally opened, we had the incredible experience of having the entire site to ourselves for an hour, during which time we felt like kids again, running around as if we were let loose on a giant playground and trying to get the most of what we could out of this small window of opportunity that would allow us to take photos of Machu Picchu with absolutely no tourist crowd to spoil the background! An hour later we went on a professional guided tour of Machu Picchu, during which time we were led through the grounds and explained the main functions of the city as well as of the people that once inhabited it.
Following a quick lunch it was finally time to climb Machu Picchu mountain. After a one and a half hour walk up hundreds of steep steps we made it to the top of the mountain, where we stayed for an hour and a half, joking around, taking photos and disturbing the people around us by making a ridiculous amount of noise while taking in the incredible views of Machu Picchu and its surroundings. This was definitely one of the highlights of our trip owing to a mix of good company and a beautiful location.
At around three o'clock in the afternoon we started heading back which in practice meant walking down a combined total of about 2500 steps – needless to say, the day did not fare well for our muscles which by the time we reached the bottom were aching for some rest. We reached Aguas Calientes in late afternoon at which time we all decided that a beer was very much in order. The group sat down together for one last drink before heading out in different directions. Bram and I caught a late train to the village of Ollantaytambo where we spent the night, before waking up on the next day for the start of our one-day tour of the Sacred Valley.